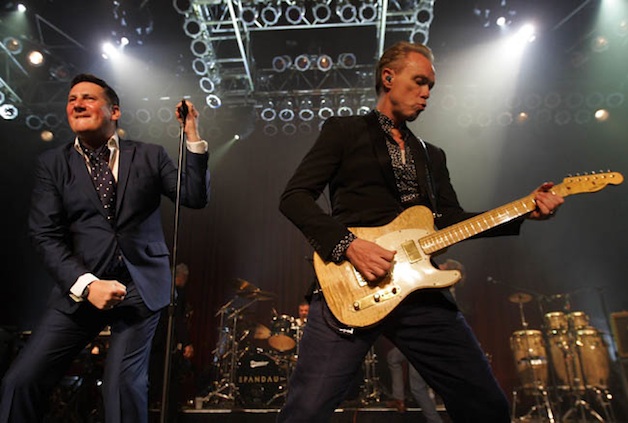 House of Blues, Chicago
Saturday, April 25, 2015
For the amount of time "True" gets played on the radio, gets re-run in The Wedding Singer or pops up in samples (P.M. Dawn, Lloyd and Lil Wayne), it's utterly perplexing why Spandau Ballet hasn't toured America in 30 years. Granted, the bulk of the band's 25 million album buyers are overseas, but even a single spin of the new The Story: The Very Best Of Spandau Ballet (Parlophone) indicates these Brits are nothing short of new romantic royalty on par with Duran Duran, Wham! and Culture Club when it comes to constructing a suave pop sound (and dressing just as sharp).
Saturday's stop in Chicago served as a belated follow-up to 2009's reunion tour that found front man Tony Hadley, guitarist/keyboardist Gary Kemp, bassist Martin Kemp, saxophonist/percussionist/guitarist Steve Norman and drummer John Keeble selling out arenas all over Europe and Australia. Even if there were far less folks at the House of Blues, those who did attend appeared to be a mix of the extremely loyal, alongside those who perhaps caught wind of a recent Jimmy Kimmel Live! performance or the group's documentary turned DVD Soul Boys Of The Western World.
Regardless of the reasons the fairly full crowd gathered, the well-mannered men more than made up for lost time with a two hour show spanning over 20 tunes, accompanied by an ultra bright light show (which further showcased everyone's fashion focus). The set list stuck pretty closely to the tracks on the double disc deluxe edition of The Story, though it wasn't exclusively a trip down memory lane as the guys also debuted a trio of new tunes, including the slick and sophisticated opener "Soul Boy."
The players continued to sizzle on up-tempo tunes like "Highly Strung" and "Only When You Leave" with Hadley in particular shining on the smooth ballad "This Is The Love" and fellow current cut "Steal." For those thinking Spandau Ballet was a one hit wonder in the States, the '80s dance floor filler "Chant No. 1 (I Don't Need This Pressure On)" actually proved otherwise, while a medley of the band's Blitz Club beginnings recalled more electronic experimentations modeled after Kraftwerk or Roxy Music.
A surprising acoustic version of the synth-pop single "Gold" (later reprised properly) prompted a sizeable sing-a-long and the Motown-inspired "True" tore the house down, especially as Norman dove into his extended sax solo. Though it didn't seem like any encore could ever top that tune, the momentum building "Through The Barricades" also made a case for Spandau's keen sense of craftsmanship, which may have never earned the credit it's deserved on these shores, but is finally in the midst of being rediscovered, 30 years later.
-Review and photos by Andy Argyrakis
Category: Featured