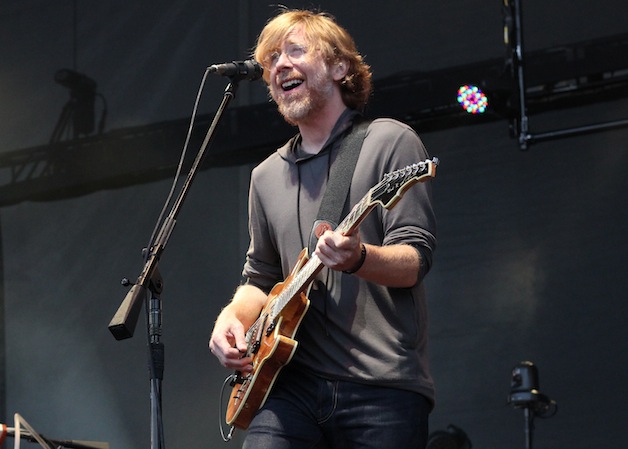 Trey Anastasio of Phish at FMBP, Chicago 7/18 – Photo by Jeff Elbel
FirstMerit Bank Pavilion at Northerly Island
Chicago
Friday, July 18, 2014
After last year's experience,  Mayor Rahm Emanuel must have lobbied Tom Skilling. On this weekend in 2013, three major concerts in Chicago were beset by torrential rain and a fierce electrical storm. Björk's headlining Pitchfork set was truncated, Pearl Jam were stalled at Wrigley Field, and the first of Phish's three night stand at Northerly Island was swamped.
On Friday, the lakefront weather was picture-perfect. A sold-out crowd of revelers packed the pavilion, and stretched into the lawn as far as the eye could see.
The versatile Vermont-based jam band launched its first show of the weekend at FirstMerit Bank Pavilion with a satisfying set list representing all but two albums from 28 years' worth of studio output. Phish's newly released 12th disc Fuego notched four songs during the set, opening with nimble bassist Mike Gordon's "555."
Guitarist Trey Anastasio received joyful cheers as each song's introductory riff was recognized. The crowd came ready for audience participation, becoming the Northerly Island choir during the "bag it, tag it" chorus to "Reba" from 1990's Lawn Boy.
Keyboardist Page McConnell brought elegance to the pavilion while performing the "Fuego" album's propulsive "Halfway to the Moon" on his grand piano.
As darkness fell at the end of the first set, McConnell was left alone onstage for an extended piano solo under blue light to conclude "The Squirming Coil." "No rain, no rain," he said enthusiastically, while greeting the crowd after a thundering ovation. Clearly, the band was as happy as its fans to leave last year's soggy weekend to memory, and celebrate a beautiful evening.
The second set began with a euphoric cover of "Golden Age" by TV on the Radio. As Anastasio slipped into another expansive but eminently melodic solo, the Phish audience indulged one of its rituals. The air was soon filled with thousands of glow sticks, arcing over the crowd and falling like Technicolor rain.
A psychedelic light show and McConnell's funky clavinet punctuated "Sand," which leaned on a taut groove from Gordon and drummer Jon Fishman that fused Sly and the Family Stone-styled soul-rock with the tension of Talking Heads' "Remain in Light." Although the jam-friendly Phish shares an audience with the Grateful Dead, Anastasio's soulful touch and stratospheric flights distinguished his approach from that of Jerry Garcia.
The power of a Phish show lies in the virtuosic ability of each of the four players, combined with their collective ability to follow each other through dynamic twists. The band's sonic exploration through the rapturously received deep cut "Halley's Comet" was closer to that of a jazz combo than a rock band. Occasionally, the band would drift apart while trying a new move, but instinct would soon lift them together onto a new plateau.
The off-kilter vibe and non sequitir lyrics of "Wombat" were cheeky fun. The song took the position held during last year's set by "Meatstick," another oddball favorite.
Anastasio's opening riff to the rollicking "Chalk Dust Torture" sent the energy surging to the evening's peak, with hundreds of uninhibited people adopting the "dance like no one's watching" credo. McConnell's gospel organ solo created further frenzy, while Gordon and Fishman held tight to a wicked groove. Tens of thousands shouted the celebratory chorus, "Can I live while I'm young?"
Phish encored with "Julius" from 1994's Hoist, igniting a blues swing and final volley of jaw-dropping solos that should render the band welcome in Chicago anytime. With that, the band concluded a three-hour performance and sent revelers grooving blissfully home – many of them eager for two more concerts on Saturday and Sunday. Clearly, there are many people in Chicago who won't tire of having Phish on the menu every night.
– Photo and review by Jeff Elbel
SET LIST:
Set 1:
555 (Fuego, 2014)
Kill Devil Falls (Joy, 2009)
Bouncing Around the Room (Lawn Boy, 1990)
Reba (Lawn Boy, 1990)
Waiting All Night (Fuego, 2014)
Birds of a Feather (The Story of the Ghost, 1998)
Halfway to the Moon (Fuego, 2014)
Sparkle (Rift, 1993)
Sample in a Jar (Hoist, 1994)
A Song I Heard the Ocean Sing (Undermind, 2004)
Stash (A Picture of Nectar, 1992)
The Squirming Coil (Lawn Boy, 1990)
Set 2:
Golden Age (TV on the Radio cover)
The Mango Song (A Picture of Nectar, 1992)
Sand (Farmhouse, 2000)
Piper (Farmhouse, 2000)
Halley's Comet (Richard Wright cover)
Wombat (Fuego, 2014)
Chalk Dust Torture (A Picture of Nectar, 1992)
Slave to the Traffic Light (The White Tape, 1983)
Encore:
Julius (Hoist, 1994)
Category: Featured, Live Reviews, Stage Buzz, Weekly