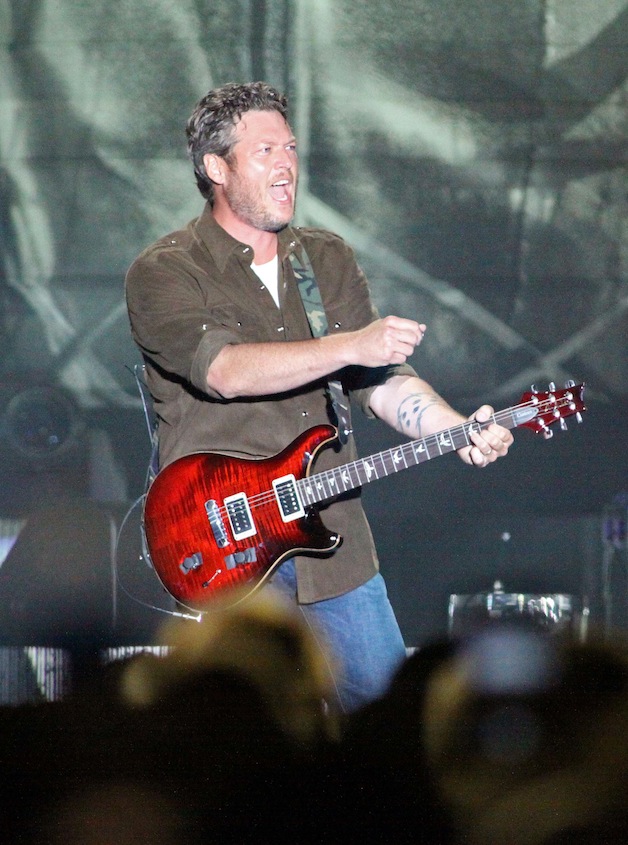 Wrigley Field
Saturday, July 19
When was the last time Wrigley Field sold out two nights in a row and everyone went home happy?
It was a weekend of opposing musical genres at the friendly confines. With all due respect to Billy Joel, the Piano Man and his library of hits, Friday night was just a warm up for Blake Shelton and his Ten Times Crazier Tour.  Launched in support of his eighth studio album, Based on a True Story…, the tour originally started last October with Easton Corbin and Jana Kramer opening.  Shelton had to break the tour down into two parts in order to accommodate his mentoring duties on NBC's The Voice.  The second leg kicked off in March, this time with The Band Perry, Neal McCoy and Dan + Shay rounding out the bill.
Blake Shelton is a talker as well as a drinker. He admitted as much introducing his second song "The More I Drink" telling the packed house, "when I get nerves, I tend to drink more."
Opening with "All About Tonight" en route to an almost two-hour/21 song show, Shelton worked up a good sweat with big hits like "She Wouldn't Be Gone," "Who Are You When I'm Not Looking," "Hillbilly Bone," "Honey Bee," "Boys 'Round Here" and "Over You" – an especially touching song about his late brother which showed that his loss still hurts.  He played his first hit "Austin" right after, lifting the mood a bit and continued on with a set list that ended up becoming a Wrigley Field sing along. He seemed to be truly in awe of the sight of the cell-phone lit crowd singing along to the Michael Bublé cover "Home," when he said "I can't tell ya all how cool this looks." And it did.
Neal McCoy was the night's MC, showing his veteran musical status and versatility to a crowd that probably danced to his hits but never knew who he was. His small band flipped between a few Beatles tunes, a little CeeLo Green and parts of McCoy's 10 studio albums. Note to future acts, keep the annoying DJ in the clubs – live shows should let a guy like McCoy show his stuff.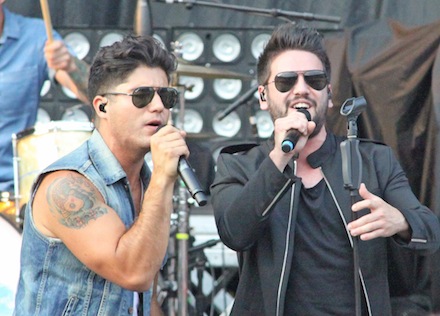 Newcomers Dan + Shay kicked the night off moving through a short, but lively 25 minute set. With a local show last night, a pre-show before Saturday's event and an after-party appearance, they got the most out of their Chicago weekend. Initially, they look as if they were put together by the Nashville marketing machine, except they really have talent and a good story. They were starving songwriters who met at a holiday party back in 2012. Their styles clicked and they were signed as a duo, releasing their first single "19 You + Me." It hit #1 on the country charts and now they are learning the ropes on a stadium tour. These guys have plenty of energy and seemed to be awed by the Wrigley stage.  Their show seemed to be a work in progress for a band more conditioned to playing cramped honkey-tonks but the duo – who write all of their own songs – are definitely one to watch.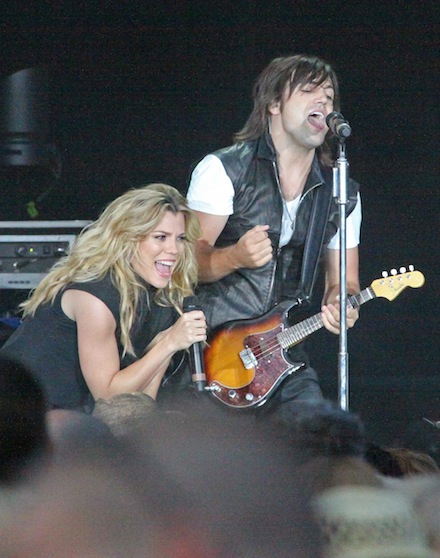 The Band Perry worked a 10 song set opening for Shelton. They put on an animated show that convinced some that they are worth more than a few down-loads and a slot in that college party-mix.  Kimberly Perry is just flat out stunning. If country music were to give out awards for Best female performer in high heels, she would win it hands down. She is bubbly and energetic with a commanding stage presence that forces you to watch. She and her brothers worked themselves into a lathery sweat of their own, with their hits "DONE" and "Chainsaw" as well as the Queen cover "Fat Bottom Girls" tossed in as an ode to classic rock. As a band that has been kicking around since 2010 and can headline their own shows, they know how to work the back rows of the stadium and control the "hair flip" like real road warriors.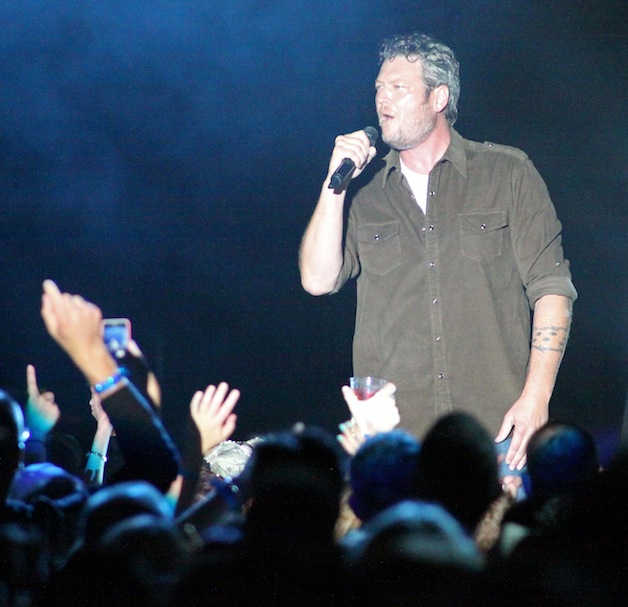 Shelton comes off as a guy that has made it and is determined to spread it around. From having Gwen Sebastian, a contestant from his TV show The Voice sing backup vocals, to bringing along newbies Dan + Shay, Shelton is paying it forward.  He could have piped in DJ music between sets but including a veteran like Neal McCoy (he's only 55) shines a new spotlight on his career. The Band Perry probably doesn't need any help, but showing them off on an arena tour of this size only helps expose them to those tough customers that have only heard the few tunes local country radio plays.
Coming back for the curtain call, Shelton said this was the biggest night of his country music career. He finished off a perfect summer night with a three song encore, including the Kenny Loggins hit "Footloose." I don't know if he's going use that line on the fine folks in Saskatoon, Canada on Tuesday, but everyone came out of Wrigley Field believing it.
–  Review and photos by Brian Ormiston
Category: Featured, Live Reviews, Stage Buzz, Weekly