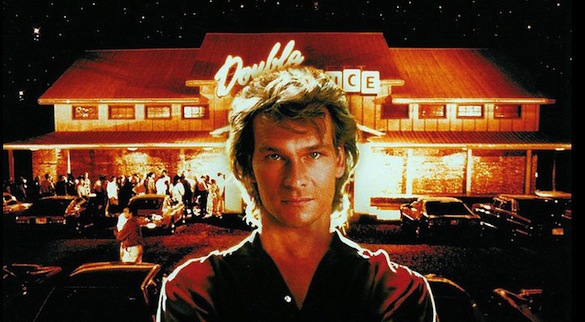 Watching the right pair of movies back-to-back can illuminate wildly different details, create a whole new viewing experience and, just maybe, BLOW your MIND. Plus, it's fun! Here's your monthly guide:
"Live. Die. Repeat." Basically, Warner Bros. is marketing the first big release of June, the Tom Cruise sci-fi battle flick Edge of Tomorrow, as a video game. Which is probably a good bet, since people (especially those who were born with their own joysticks) spent $15.93 billion on video games in the US last year.
Digital gunplay or no, pretty much all major releases of this month are geared toward boys, big and small. There's the fraternity comedy of 22 Jump Street, the viking fantasy of How to Train Your Dragon 2, Think Like a Man Too, for godssake, and frigging Transformers: Age of Extinction. Even the two most anticipated indie movies, The Rover (an apocalyptic road movie) and Snowpiercer (the English-language debut of Joon-ho Bong, whose Mother and The Host were both freaky and fun) are testosterone adrenalized blood-gushers.
So, I suppose this is Hollywood's way of saying "Happy Father's Day!"
First up:
Road House (114 min)
Dir. Rowdy Herrington, 1989
Availability: DVD/Blu-ray; Amazon Instant
NBC's Parks and Recreation is a twee juggernaut of heartfelt whimsy and the cathartic pursuit for common good. Leslie Knope (played by Amy Poehler with an exuberant mix of Lucille Ball and Hilary Clinton) is the center of this confident, smart, lofty, tear-jerking comedy. It is so confident in its smarts, in fact, that it knows how to paradoxically make itself more effective by undercutting any lofty or tear-jerking moments with moments of unabashed boneheadedness.
In the great season four episode "The Debate", Leslie is in a personal tug-of-war, deciding whether to say the right thing in order to win – or to say the brave thing in order to be right. Meanwhile, Andy Dwyer (a character who could have gotten old quick as an obnoxious knuckle-dragger, but, in the hands of rising star Chris Pratt, he is instead a master class of gleefully spontaneous slapstick) needs to save a malfunctioning campaign fundraiser the only way he knows how – by distracting possible donors with breathless re-enactments of his favorite movies. Particularly awesome is his blow-by-blow account of an outrageous scene in which the legendarily infamous Road House elevates from laughably silly to stupefyingly insane.
I'm running on about a TV sitcom here because Andy's sweaty re-enactment now almost serves as a companion piece to the movie itself. You can catch the clip of his re-enactment on YouTube, and it is hilarious on its own, but it actually works better within the context of the rest of the episode (which you can stream on Netflix) by illustrating just how out-of-place and bizarre this excitable galoot's presentation is. His audience of gentle suits cannot seem to believe the lunacy they are witnessing – and, yet, are fascinated by it.
The thing is, every word Andy says (yes, "I used to f*** guys like you in prison!"), almost every physical movement (yes, a throat is ripped out by hand!), is astoundingly precise and true to this macho circus starring Patrick Swayze as some sort of bouncer/warrior. This movie, by all means, should have been destroyed – but is somehow (accidentally) ridiculously fun and even sort of fascinating.
Next:
Anchorman: The Legend of Ron Burgundy (94 min)
Dir. Adam McKay, 2004
Availability: Blu-ray/DVD; Amazon Instant
Anchorman is explicitly about male stupidity during an era of slowly crumbling misogynistic hierarchy; a comedy so aggressively absurd at times that many audiences originally dismissed the movie itself as stupid. Well, a decade later, it has become a universally quotable behemoth of a comedy classic, so I won't waste too much space defending it, other than to add one quick thing:
The writing and performance of Christina Applegate's character Veronica Corningstone came at a time in comedy when actresses were mostly allowed to be eye candy and/or wet rags to mop up fun loving man-boys. Here, we have a female lead who is smarter than anyone else in the room, sure, but is also a true goofball who gets just as dirty and weird as the boys. The plot hinges on a farcical crisis in their relationship, sure, but it's a crisis borne of actual stakes that are far more believable than what most rom-coms can muster.
In the movie, Ms. Corningstone is a barrier buster for women in network news; but in real-life Hollywood, she is a precursor to a slow rise in funny, unpredictable female characters, certainly including Leslie Knope.
-Rob Fagin
Category: Columns, Double Feature, Monthly