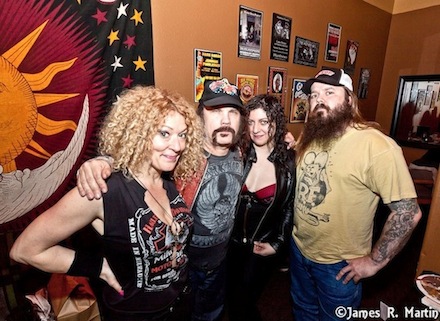 I'd like to dedicate this to all that Nashville pussy!" said the Motor City madman Ted Nugent on his 1978 Double Live Gonzo! album. His eloquent introduction to the song "Wang Dang Sweet Poontang" spawned the band name for Atlanta sleaze-rockers Nashville Pussy. Married couple, vocalist Blaine Cartwright and guitarist Ruyter Suys (pronounced "Rider Sighs"), have been cranking out their brand of rowdy rock 'n' roll since 1996. On their sixth full-length album, Up the Dosage the band, joined by drummer Jeremy Thompson and new bassist Bonnie Buitrago, delivers its signature sound of 13 redneck anthems with a sarcastic style and a raunchy swagger.
Mosh: It's a fact that you named your band after Ted Nugent's introduction to "Wang Dang Sweet Poontang" off his Gonzo! record, but what was the thought process behind it?
Ruyter: We had about 50 completely stupid names, including Bacon Battleship and Haircare For Sinners. I wanted to call the band Ham. That was my brilliant idea. We were listening to the (Nugent) album and we heard it and we thought it would be great. But it seemed like it was almost a dare. Like, 'do we have the nerve to pull it off to call ourselves that?' The more we said it, the more we thought we had to do it. Nugent actually interviewed me once for CMJ Magazine. He's like a cross between a car salesman and David Letterman when he's in the mode. He was just firing on all cylinders and I was just basically agreeing with everything he said. Yes, he took full credit for naming us. And, recently we were voted pick of the week on That Metal Show and he was the guest. So he said it a bunch of times during the show. He said it just like he did on the record. It was so cool.
Mosh: The band has been churning out its brand of AC/DC meets Rose Tattoo-inspired rock 'n' roll since 1996. What keeps you motivated?
Ruyter: The live show is always a huge factor. We all love performing live so it's kind of the lifeblood of the band. Being in the studio, even this last time … it's always challenging. I don't know what keeps us going. Maybe because we get to have time off. We have other bands that we get to play with occasionally. It's just something that we all love and do so naturally that it's really easy to fall into. When I'm on vacation, that's all I want to do. But as soon as I'm on the road, that's all I want to do. Why not tour forever? It feels great. But then when you get home again, it's like 'wow, why not be on vacation for the rest of the year?' Maybe it's because we have time off and when we get together, it's like magic again.
Mosh: The band's sixth full-length album, Up the Dosage, boasts 13 songs about drugging, drinking, fighting and f***ing. You guys have become experts on this subject!
Ruyter: It seems like that subject matter has a lot of legs! I don't know how the hell Blaine comes up with it. There has to be about 10 songs on the album about drugs. I didn't even realize it until the record was done that there are drug references everywhere. I'm mostly just playing lead guitar. It's all tongue-in-cheek. Our sense of humor is fairly jaded after being on the road for 20 years. Mind you, it was jaded to begin with. Blaine's just basically making us laugh, kind of the same way that Bon Scott used to do in early AC/DC. They were practically nursery rhymes. Blaine likes to produce nursery rhymes for criminals. Nursery rhymes for the incarcerated!
Mosh: There are a few new tricks up your sleeve on this album; a Hammond organ on CD-opener "Everybody's Fault But Mine" and the AC/DC bagpipe sample on "Pussy's Not A Dirty Word" for instance. What made you want to experiment with these elements?
Ruyter: It's just shit that hits you while you're in the studio. Both of those things were off-the-cuff ideas just to see if it would work. Both of those ideas happened when it was just me and the producer in the studio late at night and no one else was around to say no. If I told our drummer (Jeremy) that I wanted to put bagpipe sounds on a song, he would have strangled me. But once I did it and he heard it, he was OK with it. Same thing with the keyboards; I said, 'we're opening up with this.' I came up with the whole melody. So we tried it, and sure enough, it worked great. We'll try shit, but we'll throw it out if it sucks. All of our little happy inspirations that happen while we were in the studio are all very organic. We don't come in with anything written in stone when we come into the studio. We have the songs fleshed out, but we always leave it to the Gods of Rock to point us in the right direction. We just hope the inspiration hits. This album in particular, the lightning bolt on the cover is an indication of what happened while we were in the studio. It was just like, 'Bam!,' you know?
To read the full interview pick up a copy of IE throughout Chicagoland or read the digital edition HERE
Category: Caught In A Mosh, Monthly