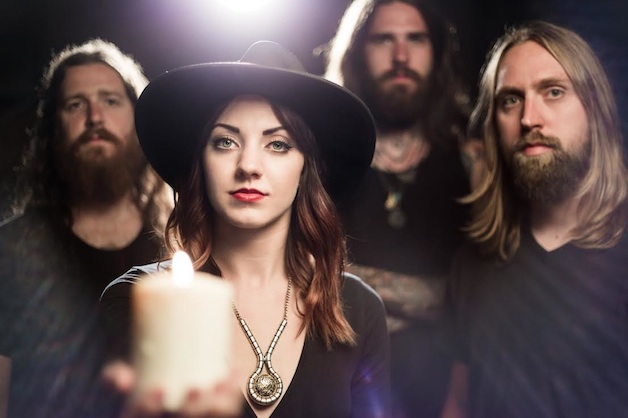 Mountains Of Doom
Chicago doom-metal throwback Mount Salem has concocted a fuzzy potion of '70s rock and '60s psychedelia with vintage production values. The quartet, consisting of vocalist/organist Emily Kopplin, guitarist Kyle Morrison, bassist Mark Hewett and drummer Cody Davidson, is notably inspired by the heavy riffage of Black Sabbath and Pentagram. The band's tantalizing organ melodies, cascading vocal harmonies and distortion-filled wall of sound perforates the listener's ears on its debut full-length album, Endless. Initially recorded as an EP last year, Metal Blade Records recently repackaged and re-released it, including two new tracks. Speaking with the pleasant Ms. Kopplin by phone, she explained the excitement of being signed to the label, the band's influences and her fascination with occult-inspired themes.
Mosh: Your band has obvious Black Sabbath and Pentagram influences, but it also goes deeper than that, doesn't it?
Emily: Yes it does. All four of us have similar music tastes, but also everyone is into their own stuff separately. You can definitely hear some of our main influences like you mentioned, but we also like psychedelic stuff, too. We were listening to a lot of Deep Purple, Shocking Blue; a lot of old classic rock 'n' roll stuff. Mark, our bass player is into heavy, doom music. Kyle is more into bluesy rock 'n' roll. And myself and Cody are both more into post-rock instrumental stuff. I think you can hear everybody's separate influences come together. I'm influenced by both male and female vocalists. Even bands like Fleetwood Mac, [bands] that you wouldn't really think would be an influence or associated with our band necessarily. Stevie Nicks is one of my favorites. Also, Nancy Wilson from Heart.
Mosh: When did you start playing the organ?
Emily: I actually just picked that up right when we started the band. I played the piano for years and I took a lot of piano lessons when I was a kid. When we were talking about jamming and getting together to play some music, everyone picked up new instruments. I thought it was cool to add an organ [to our sound]. It's pretty much the same thing as playing the piano, but it's just fun to play around with the settings and make it sound different.
Mosh: The band's imagery is based on occultism. What are you trying to convey with your lyrics?
Emily: When we started playing together, we didn't really have an idea of what we wanted the music to sound like. It just came out the way it is; having a very eerie, creepy vibe. I've always been intrigued by occult ideas. It's interesting to hear about those ideas and read about people who have experienced these things and write stories about it. I usually like to write in a style where I tell a story and the listener can create a picture in their head of what's going on. I think that's a necessary way to go about the music that we were writing. It just seems really natural to fit with the sound.
Mosh: What's it like to be signed by Metal Blade Records?
Emily: It's pretty insane. We had no idea that they would contact us. We were completely shocked. We sent out a few packages that we put together to just a few small labels, and we didn't really hear back from anybody. One of them was from the UK and apparently somebody who we sent it to passed it on to somebody who works at the Metal Blade UK office. So, when we heard from them, we were totally shocked because we didn't send them anything. It was a very awesome surprise and they've been really cool to work with so far. I feel that there are really good things to come with them.
Mosh: Mount Salem recently opened up for Chicago's own doom lords Trouble at Metro. How was that experience?
Emily: It was awesome. It's really great to be able to play with guys who have been doing it forever. We've seen and played with so many other bands and to hear them say that they dig what we're doing is really cool. A friend of ours, Rob Hultz, he plays bass for them now. He was playing with us when we first started jamming, so it was really cool to be able to play with a friend.
Mosh: What are your upcoming touring plans?
Emily: May 1st, we're starting a tour for a little over two weeks. We're planning on going out west and back. Once we get back from that tour our first night is here in Chicago. We're just trying to play with different bands and in different cities that we haven't played in before. We've been out to the East Coast and we've been in the middle of the country, so it's going to be cool to go out west now and meet some new people.
Mosh: What are your expectations and what are you hoping to achieve, especially now that you're signed to Metal Blade?
Emily: We have no expectations concerning the band because we've all been friends for awhile, and this friendship was something that meant getting together on the weekends. So it's totally exceeded anything we've ever expected. When it stops being fun, I think we'll stop doing it. There's no point in forcing yourself to do this. We're just really excited for the record to come out and for people who might not have heard it yet or might not have had access before Metal Blade came in. They're going to get it out to way more people than we ever could have. I'm just excited for people to hear it and I hope they like it. I hope that we can eventually tour over in Europe. I think that's everybody's next big goal and we're trying to do that in the fall.
MOSH-WORTHY: Nervosa Victim of Yourself (Napalm Records), Holy Moses Redefined Mayhem (Steamhammer/SPV), Benighted Carnivore Sublime (Season of Mist), Whitechapel Our Endless War (Metal Blade Records).
MOSH-WORTHY…LIVE: Carcass, Black Dahlia Murder, Gorguts, Noisem (House Of Blues, 04/05), Iced Earth, Sabaton, Revamp (House Of Blues, 04/06), Destruction, Krisiun, Exmortus (Reggie's, 04/10), Ghost (The Vic, 04/19).
MENTION-WORTHY: Local rockers High Spirits are set to release their highly anticipated second album, You Are Here, on May 13th through Hells Headbangers Records. It's loaded with hard-charging tracks that will certainly raise the band's stock. New supergroup of sorts, VHF, featuring legendary bassist Tony Franklin (The Firm, Blue Murder), guitarist Joel Hoekstra (Night Ranger, Trans-Siberian Orchestra, Rock Of Ages) and drummer Todd "Vinny" Vinciguerra, are working on their new EP, Very High Frequency. It's being mixed by Tommy Kessler of Blondie and is tentatively scheduled for a "spring" release.
– Kelley Simms
Category: Caught In A Mosh, Columns, Featured, Monthly