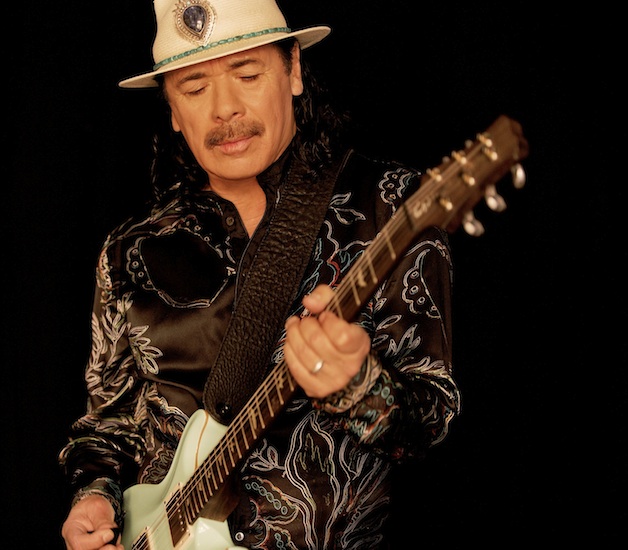 It is a breezy and clear December morning in Guadalajara, Mexico, and guitarist extraordinaire Carlos Santana is working the room.
"Buenos dias – or –  good morning," he says, laughing slightly, to a mixed crowd of entertainment reporters, label and TV execs, management, publicists, and corporate sponsors ushered into a small conference room in the hotel where Carlos and a large entourage Latin music superstars are preparing for one of the most important concerts of his nearly 50 year career. "Thank you all for coming here today; it means so much to me."
Back in his homeland of Mexico (and only 150 miles from his birthplace), the soft-spoken and deeply spiritual Carlos Santana has come to talk about, and more importantly, premiere the music of his 22nd studio album (and 45th release, altogether since his 1969 Columbia Records debut), Corazon, which translates as "heart," in Spanish.  With record sales exceeding 100 million, Santana is arguably the biggest Latin music star of all time, but it has not been until now, with the Corazon album, that Santana has really been able to embrace his heritage. Recorded entirely in Spanish and featuring the biggest contemporary names in Latin music, Corazon may be the closest thing Santana has ever released that touches the real soul of his artistry.
"The flow was great," says Santana, obviously excited to have made such an important album. "Nothing was done by hook or crook. Since I can remember as a child I have been surrounded by a support system, both inwardly and outwardly. I am very blessed because they come at the right time. We basically lick our finger and hold it in the air; the angels kiss it and we know what to do. We don't need to convert anyone. We have confidence and clarity for the right song and the right person and right performance. And in the end, it is deliciously supreme."
As with Supernatural, his 17th studio disc released in 2000, Corazon is a collaboration of Carlos and many acclaimed vocalists and musicians. Supernatural sold a whopping 15 million units and won a record 9 Grammy Awards and 3 Latin Grammys. He is hoping to see the same worldwide success with Corazon.
The artists who appear on Corazon not only represent the biggest names in this musical genre,' they hail for all parts of the Spanish speaking world. Among them:  Chocquibtown (Colombia), Lila Downs (Mexico), Gloria Estefan (Cuba), Los Fabulosos Cadillacs (Argentina), Juanes (Colombia), Miguel (USA), Niña Pastori (Spain), Samuel Rosa of Skank (Brazil), Soledad (Argentina), Diego Torres (Argentina), Ziggy Marley (Jamaica) and Romeo Santos (Dominican Republic).  Though the guests on Corazon represent some of the biggest music stars of no less than 10 different Latin countries, Santana says, their geographic success had nothing to do with how he selected those who came to collaborate.
"It was never a geographic decision on how they were chosen," he says. "It was more like who was not deep and  shallow. Who is bringing some 'make your hair stand up stuff.' Who, women and men, were in a position to bring some really hot stuff.  The two things I love in life are spirituality and sex.  Who is bringing that? We didn't want to be around anyone who only saw themselves in the mirror; we don't want that. We wanted to be around people who saw us; everyone. So, we went with people who could bring those things. Who could bring originality. We don't want those other people because then the music would be stiff; it would only be about them and not about everything. We wanted people who represent everything and everyone like Picasso, and Miles Davis, and Billie Holiday. These kinds of artists become memorable and they step outside of time because they represent frequency and sound vibrations of absoluteness and totality. Those are the artists that we go for, because, just saying their names, you get chills, and you know they want to give them to you!"
The album will be released on May 6th on RCA/Sony/BMG's Latin Iberia label. Coinciding with the release of LP will be the worldwide HBO broadcast of "Corazon, Live From Mexico: Live It To Believe It" which featured Santana and most of the guests who were on the album. In addition to his greatest hits and best loved concert favorites, Santana and the band recreated nearly all of Corazon for the live concert TV special. It was filmed December 14th in Guadalajara, Santana's home state of Jalisco, located in the heart of Mexico.
For Santana, the time was right to make this album. "I think America and the rest of the world are recognizing that there is, not a flavor of the month, but  something memorable that is going to stay,(when it comes to Latin culture)." he says. "Now, more than ever we are starting to see Latin men and woman in movies that are not like Scarface anymore, and see them as role models and as people who consistently present themselves in different forms other than someone who is dirty and vulgar. We are breaking the stereotypes in the United States for Latinos. And this is perfect time to bring a voice to the abyss. I think there's a way for us to look at each other in a different way. Perhaps we can think more consciously  with compassion how we treat each other."
Hence, the name Corazon.
Santana will also hit the road for an extensive co-headlining tour with Rod Stewart, blending his hits with tracks from Corazon, and including, several of the guest vocalists at various shows around the US. The tour stops in the greater Chicago area when it comes to Rosemont, Illinois on August 16th., with a show at the Allstate Arena.
The Corazon album and tour are also designed to promote Santana's recent alliance with the popular Mexican-based Tequila brand, Casa Noble, of which he became an active partner/owner in 2011. All of the proceeds Santana makes from the award winning, high-end liquor is used to help fund his La Milagro (Miracle) Foundation, providing educational and health resources for under privileged children, worldwide. In 2013, Casa Noble shipped over 60,000 cases, with sales up considerably since adding Santana as a partner.
"Just to have his energy around is so amazing and for him to be part of Casa Noble, what else could we ask for?" says CEO Jose "Pepe" Hermosillo. "It's a passion project for him, so everything he makes from Casa Noble goes straight to those kids he obviously helps through the La Milagro Foundation."
For the full story – pick-up a copy of our April Issue or click on the cover on the front page of the website
– Bruce Pilato