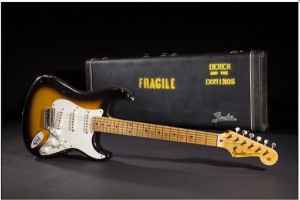 FENDER
Custom Shop Eric Clapton
Brownie Stratocaster
"I wonder how much I paid for it," says Eric Clapton, struggling to remember, in a promotional video for Fender, the London shop where he first purchased the iconic guitar in May of 1967. "They were going for a song. Nobody wanted these things anymore. They were archaic," he jokes, referring to maple-fretboard Strats in the mid-'60s. "It had been played – it didn't look much different from the way it looks now. What I would always look for on a Strat was a maple neck that had been worn out. It's like a restaurant," he laughs. "If there's lots of people in there, it's gotta be good food. So I just thought if it had all those kind of worn-out patches, it meant that it had been well-favored. This is what it was like when I bought it."When Clapton originally purchased "Brownie," which he named after its brown sunburst finish, Strats with an original '50s maple fretboard were hard to come by. "The problem was trying to find maple necks," he says. "All the models that were current at that time had rosewood fingerboards, so maple had kind of gone out of circulation. It wasn't until I went through the States on tour and started picking them up at pawn shops and record shops for a song. And I'd buy four or five at a time."
In conjunction with Clapton's upcoming Crossroads Music Festival, the legendary guitarist has teamed up with Fender (as well as Gibson and Martin on two other collector guitars) to produce limited-edition guitars where proceeds will go to his substance abuse rehab facility in Antigua. In this case, the guitar is a 1956 Stratocaster reproduction with a two-colored sunburst finish and a well-worn maple neck and fingerboard. Called the limited edition Fender Custom Shop Eric Clapton "Brownie" Stratocaster, the guitar also has a 7.25-inch radius fingerboard with 21 vintage-style frets, custom-shielded '56 Stratocaster pickups with five-way switching, a single-ply parchment pickguard, a vintage-style synchronized tremolo bridge, and nickel hardware. The recreated finish and hardware are worn to mirror the original guitar exactly, down to the smallest nicks, scratches, dings, cigarette burns, and more. The guitar comes in a special black textured vinyl Derek And The Dominos "Fragile" case that also contains several special extras, including a numbered certificate of authenticity hand-signed by Clapton, the 40th Anniversary Deluxe Edition box set of Layla And Other Assorted Love Songs, a Fender Custom Shop story and photo album booklet, and a Crossroads Antigua brochure.
Clapton explains the appeal of a maple fretboard: "I think I'd played rosewood on a [Fender] Jazzmaster in The Yardbirds, and it felt like the grain was quite prominent on the rosewood, where you felt like you were going across the grain if you tried to bend the strings. And I never got that with maple – this was almost like marble or something, it was so smooth. And of course, it was an image thing. All my heroes played them."
One of Clapton's favorite and most inspirational Strat players was '50s rock 'n' roll icon Buddy Holly. "I saw Buddy Holly holding one – Buddy Holly played one, and all those records that he made, it sounded like it was really, really quiet," he says. "The tone – I don't know what kind of amp he would've used, maybe a Fender amp or a Gibson amp, Bassman perhaps. But quietly. He played it like an acoustic guitar a lot of the time. So it had that initial appeal to me when I was a kid. But then somewhere down the road, I went to The Marquee [in London] and saw Buddy Guy. And he was bouncing his Strat off the floor! Playing it behind his head – but taking it off, and throwing it on the floor, and bouncing it and catching it, and it went out of tune a little bit, and he didn't use a wang bar. And I thought, 'This is the sound!"'
"'Brownie' takes me back to a state of mind," he says. "These guitars are a little bit harder to play than modern guitars and they're not as loud, so if I was gonna use this on stage, the whole band thing would have to be addressed, the dynamics – it's a whole other mindset. There's a lot involved, let alone the journey of the guitar. It all comes back to me – doing "The Johnny Cash Show" with Carl Perkins, man. Touring in a quartet that was quieter, funky, very, very strong. All of it hinged on the toughness of this guitar."
Clapton remembers, "I think 'Brownie' was the sort of prototype for 'Blackie' [his black Strat], in terms of what I was looking for in the ideal working guitar. That was the criteria, could I go on the road hard with this guitar every night of the week playing flat out, doing little bits of repair on it as I was going, refining it? 'Brownie' was the template, while 'Blackie' was the synthesis of all of it." Playing the recreated Brownie Tribute Strat at his London guitar "presser," Clapton exclaims, "Well, it sounds dead right. Between middle and bridge, that was the sound you know?" Finishing up a blues lick in E, Clapton smiles proudly and adds, "Yeah, that'll do." The limited edition  (100 guitars produced worldwide) Brownie Strat lists for $14,995 MSRP. A portion of the sales go to Clapton's Crossroads Centre Antigua. This guitar is exclusively available (locally) through Guitar Center's Arlington Heights and Chicago (Halsted) locations.
DEAN
VMNT Double Neck Diadem Guitar
Tampa, Fla.-based Dean Guitars and Megadeth's Dave Mustaine announced the  creation of their newest model in their ongoing series of guitars: a VMNT Double Neck Diadem Guitar, as seen on stage at the Big 4 concerts, where Mustaine showed off his prototype. It has a single LW-MUST Humbucker in the bridge position of the 12-string neck, and a full LW-MUST set on the six-string side. Guitar features also include a  mahogany top and body, measurements of 25 1/2-inch scale and 1 11/16-inch nut, two Mustaine specified set 24-fret D-shaped necks; an ebony fingerboard with pearl Mustaine custom inlays; a Diadem custom graphic finish. Plus, die-cast tuners with black hardware and a Tune-o-Matic string-through bridge; Dave Mustaine Duncan Live Wire pickups; 3-Way pickup selector switch with 3-Way guitar selector switch. A hardshell case is included. MSRP is $1,599. More product photos and information can be found at shop.deanguitars.com
News & Notes
Longtime legendary, northwest suburban indie guitar shop, Player's Bench Music is hosting their version of the Taylor Guitars Roadshow on April 16 at 7 p.m. at The Old Towne Hall (54 Brink St.) in Crystal Lake. Taylor's factory clinicians will be showcasing their newest (and acclaimed) models and there will be about 50 guitars on hand to try out. Single-day special pricing will be available. For details, see their ad in this issue of IE or go to playersbenchmusic.com.
Vic's Drum Shop (345 N. Loomis in Chicago's Music Garage) has a bunch of in-store drum clinics on the calendar this month, including its flagship event with Stanton Moore (drummer for Galactic, Garage A Trois) on April 6 at 2 p.m. Tickets and details can be found at vicsdrumshop.com.
— David Gedge