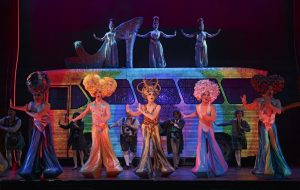 What happens when two drag queens and a transsexual woman take a bus trip throughout the Australian outback on their way to a casino gig promoted by one of the guys' wives? Well, there's a whole lot of fabulousness, fighting, friendship, and even a few unflattering slurs, but over 500 costume changes later amongst the entire ensemble – and no, that's not an exaggeration – the three pals learn a whole lot about one another, even if they never reach a definitive verdict between Donna Summer or Madonna being the ultimate queen of the dance floor.
When it comes to the camp factor, on a scale of one to a hundred, the national tour of *Priscilla Queen Of The Desert is intentionally a million, and while there are certainly some heartstrings that get pulled along the way, the soundtrack is a major selling point. The Tony Award-winning Broadway musical (which featured Bette Midler as one of the producers in the Big Apple) combines some of the most spectacular headdresses and sequined outfits to ever be seen, spread across dozens of decadent dance hits from the '70s and '80s.
Main characters Tick/Mitzi (Wade McCollum), Bernadette (Scott Willis), and Adam/Felicia (Bryan West) trade leads with three guardian divas that frequently hover over their tour bus (nicknamed "Priscilla") to the pulsating beats of "It's Raining Men" (The Weather Girls), "What's Love Got To Do With It?" (Tina Turner), "I Say A Little Prayer" (Dionne Warwick), "I Will Survive" (Gloria Gaynor), "Girls Just Want To Have Fun" (Cyndi Lauper), "MacArthur Park" (Donna Summer) and "Like A Prayer" (Madonna). Male or female, the entire cast sounds sensational and appears with the utmost confidence, even when trouble strikes in the middle of the desert.
A bus breakdown under the scorching sun is the first in a series of foils, while a country and western bar along the side of the road doesn't exactly welcome the queens with open arms. The latter moment of prejudice is certainly inexcusable, but comes across a little too stereotypical of Southerners, which is ironic given the show's overall message of acceptance. (And lest we not forget the genre's leading lady, Dolly Parton, isn't just frequently impersonated, but also amongst the most outspoken when it comes to equality).
But even with those bumps in the road, there's still plenty to celebrate, like smash sales at the casino's box office once their revue finally rolls into town, coupled with an even bigger surprise backstage on opening night. (Let's just say one of the queens was withholding another secret from his friends besides simply having a wife). Even if the plot ends with that heartwarming revelation, be sure to stay in the theater through the final bows because a full cast finale blending the club favorite "Finally" (CeCe Peniston) with a slew of disco era excess is a fitting way to cap off the party. (Now through March 30@Auditorium Theatre of Roosevelt University: www.broadwayinchicago.com)
–Andy Argyrakis
Category: Featured, Live Reviews, Weekly