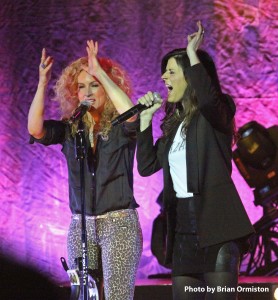 Spring is time to shake off that winter crust and wind up the concert season. It is spring isn't it? Fitting, Little Big Town and their Tornado tour swept into Joliet's Rialto Square Theatre on March 21 for a one-night show.
The quartet hit the stage to thunder-and-lightning effects and proceeded to harmonize through 20 songs that showcased the band but highlighted each member. The close-to-sold out show opened with "Pavement Ends," while "Little White Church" and "On Fire Tonight" kept most everyone on their feet early. "Bring It On Home" highlighted singer Phillip Sweet while "Sober" did the same for Kimberly Schlapman. Standing on opposite sides of the stage with alternating spotlights directing the focus, husband-and-wife team Jimi Westbrook and Karen Fairchild sold the powerful song "Your Side Of The Bed."
Their positive chemistry was palpable on Fleetwood Mac's 1977 classic, "The Chain," with the subtext of their wedding vows overpowering the original version. Visually, Schlapman's leopard print pants and spiked heels worked better than Stevie Nicks' flowing fabrics and stage twirling ever did.
LBT continued mixing things up by infusing some country flair into a few of today's best-known pop tunes, a segment they call "Scattered, Smothered & Covered." Likened to a backstage jam session, the foursome melded "Born And Raised" (John Mayer), "Grenade" (Bruno Mars), "Moves Like Jagger" (Maroon 5), "Born This Way" (Lady Gaga), and "Some Nights" (Fun) into a hoedown on shuffle.
Getting back on track, they played  "A Little More You" before finishing with the summer hit "Pontoon."  There was little question of an encore when the thunder and lightning show kicked again finishing the night off with chart-toppers "Tornado" and "Boondocks."
Opening act David Nail is "a serious guy singing happy songs." His bourbon smooth voice and pop-star looks could have him opening for Justin Timberlake just the same. He wound through a nine-song set that featured a new release, "Whatever She's Got" and a hit "Let It Rain" However, he peaked one song early with a great rendition of the Brooks & Dunn tune "Brand New Man." His final song, "Grandpa's Farm," would have just been better mid-set. If you want to leave a lasting impression, finish strong. No one was going to whistle that one on the way home.
— Brian Ormiston
Category: Featured, Live Reviews, Weekly