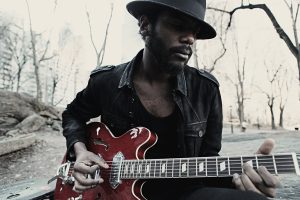 The search for a young guitar savior has flummoxed the blues for years. Glimpses of hope appeared here and there over the last decade, only to be buried among the millennial musical confusion. But none carried as much promise and pedigree as Gary Clark Jr. A fixture on the storied Austin music scene since the age of 12, Clark was ushered in by Jimmie Vaughan and baptized at 15 on Antone's stage, playing with icons Hubert Sumlin and James Cotton, no less.
The turning point arrived, fittingly, in Chicago when he created a 10-minute sensation at Eric Clapton's Crossroads Guitar Festival in 2010. Making the verse, "You're gonna know my name by the end of the night" from Jimmy Reed's "Bright Lights, Big City," stunningly literal, Clark dazzled Clapton and the rest of the crowd. Gifted with an authentic intensity and a smooth tone, 28-year-old Clark has carried the mantle of blues savior for almost half his life. After blazing a trail of live performance accolades this year from Bonnaroo to Lollapalooza, his major label debut, Blak And Blu (Warner Bros.) delivers evidence for and against that Messianic status.
With 13 tracks that veer from retro rock, to blues, to neo soul (and several instances of overproduction), Blak And Blu doesn't sound much like a blues album (or rock or R&B). The eclectic mix of sounds defy categorization thanks to Clark's determination to avoid getting pigeonholed. What does jump out is that the strongest performances and most visceral songs are clearly blues or blues-focused. Opening track, "Ain't Messin 'Round," lays the groundwork for the surprises to come, with a boppy '60s pop sound and psychedelic undertones. Clark's vocals are also unexpected, showcasing a smooth falsetto that moves into a midtempo croon, declaring, "I don't believe in competition/Ain't nobody else like me around." And he's exactly right; it's useless to compare him.
He heads deep into the blues for the standout "When My Train Pulls In," pairing dirty blues riffs with cool-toned vocals. The titular song, a neo soul tune with a convincing midtempo groove, would feel at home on a Maxwell release. He tips his hat to Chuck Berry on "Travis County," mixing the right amount of roots rock with country twang. Blak and Blu highlights the breadth of Clark's talents and influences. This staggering debut makes clear the blues savior thing isn't merely hyperbole, but also shows it's far too narrow of a label.
Willie Buck sings the kind of Chicago blues that filled smoky South Side lounges in the '50s. His latest effort, Cell Phone Man (Delmark) continues the tradition with the Rockin' Johnny Band providing zesty backup. Strongly influenced by Muddy Waters and often described as a Waters tribute artist, Buck demonstrates with this album that there's more to his artistry than simply copying a legend. Leading with the raw original "Doin' Good And Bad At The Same Time," Buck wrings palpable emotion from the verses while Johnny's boys underscore the tension with stinging licks.
Buck doesn't shy away from the Waters comparison, he embraces it, as his singular cover of "Strange Woman" illustrates. The phrasing says Waters, but the soulful delivery is all Buck. A killer bass line and shining harp skills by Canadian blues star Bharath Rajakumar creates a memorable performance that goes well beyond mere mimicry. The title track sounds like a fun update on something Waters would have written for the millennium: "Let me be your cell phone man/You don't have to worry about a thing/If you need a good man/You can give me a ring."
The Waters references continue with a wonderful acoustic treatment of "Two Trains Running" and "Streamline Woman," but he also offers a lively take on Memphis Minnie's "What's The Matter With The Mill," accented by more sharp harp from Rajakumar. The album's 17 tracks may borrow heavily from Waters, but there's no such thing as too much Muddy or too much Willie.
Mike Wheeler has been a fixture on the Chicago blues scene for almost 30 years and his eloquent Delmark debut, Self Made Man, showcases his well-earned expertise. An alum of blues/soul outfits Big James & The Chicago Playboys and Cadillac Dave & His Chicago Redhots, Wheeler possesses the perfect blend of musicianship, storytelling, and singing skills.
The funky blues soul of "Here I Am" introduces Wheeler's emphatic vocals and riveting guitar playing. By the second track, the catchy "Big Mistake" – a lament about choosing the wrong lover – it's evident that Wheeler is also an engaging storyteller. The title track showcases this with pumping harp blasts and a fresh take on the genre: "I'm a self made man/And I made myself have the blues." The tune explores situations where he has to take responsibility for creating his own circumstances.
On "Let Me Love You Baby," Wheeler takes the Willie Dixon song and smoothes out the grittiness with a touch of jazz. "You're Doing Wrong" serves up unvarnished blues accented with his silky vocals. Another funkified standout is "Get Your Mind Right," where he demands that his girl straighten up or ship out. Self Made Man provides the total package for a diverse range of blues fans.
— Rosalind Cummings-Yeates
Category: Columns, Monthly, Sweet Home, Uncategorized