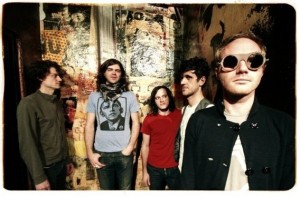 If there was ever a time for The Faint to return to active duty, it would be right now.
The music climate of 2012 is different than the one the synth-saddled act experienced during its initial early-millennial run. Now, EDM is a powerhouse force on the scene, and synths and dance elements are so ubiquitous that most pop hits practically arrive already remixed. In short, it's a prime fit for the dance rock pioneers – Todd Fink, Clark Baechle, Dapose, and Jacob Thiele – to get back in the game after a hiatus following 2008's Fasciinatiion full-length.
"We were in this cycle of making a record and touring, back and forth, and as soon as we were done with one, we had to do the next one," Faint frontman Todd Fink recalls. "And, at the end of the Fasciinatiion tour, it was just like, 'Alright, one more trip around.'
Appearing: 12/12 at Metro (3730 N. Clark) Chicago with Trust and Icky Blossoms.
"None of us really felt like making another record right away," the singer continues. "We had lives to catch up with, and . . . we didn't feel like we should make a record or make new music just because . . . there was an expectation there. So, I think it was a healthy decision, and I think we needed that space. Feels great to be back now and kind of with a slightly different perspective. I mean, you don't want to be making music or any kind of art without an idea of what it is you're trying to do that's different from what you've done before."
It makes sense then that the band would revisit its prior output, perhaps in part to connect with its past before moving on towards its future. This fall saw the deluxe re-release of the group's acclaimed 2001 full-length Danse Macabre. In addition to the standard record being remastered, the reissue also contains bonus selections from that era. Among them are the groove-heavy "Take Me To The Hospital," originally released on the Saddle Creek 50 compilation, and remixes of "The Conductor" and "Glass Danse," by Thin White Duke and Out Hud, respectively. It's an effort that helped put The Faint on the map at the forefront of the electroclash movement. Suddenly, dance rock had arrived and synths were everywhere. Now, such sounds are far more commonplace. But at the time, the hot, sweaty, electro movement was new, dangerous, and bubbling to the surface.
Revisiting Danse Macabre in 2012, the record retains its raw and radical energy. "Let The Poison Spill From Your Throat" still provides a tense and searing groove. "The Conductor" is still a buzzing, grinding slice of electro-punk. And "Agenda Suicide" still rumbles and pings uneasily. In short, Danse Macabre still sounds like the beginning of electroclash.
Yet, despite the band's role in forging the path the genre took before reaching its heyday, Fink isn't in any rush to pronounce the group's claim on that scene. If anything, he's actually hesitant.
"At the time, we did not feel a part of what was coming up as the electroclash stuff," he recalls. "I guess, because we'd already kind of done a couple albums before that stuff gained momentum and, I mean, we liked some of it . . . I guess we just didn't feel like it was that good. There were a few good songs here and there, but we were just kind of like, 'Well, I don't know if we want to really sign onto this movement.'
"We liked the spirit of electroclash, we just kind of felt separate from it as it was coming up," the frontman continues. "[1999's] Blank-Wave Arcade was not quite like the same thing. We just didn't really feel comfortable with that label at the time for whatever reason. But we liked the spirit of it and the just futuristic-minded fun of the whole thing."
The band is bringing that sense of jubilation out with them on its current winter 2012 tour, which finds the quintet revisiting material rarely performed onstage as they run through Danse Macabre in its entirety.
"Some of the songs we haven't really played before live, or maybe just right when they first came out," Fink admits. "But some of them, probably never. Okaying the masters . . . and going back through and learning the songs again, I guess what stood out is, I could tell that [the record] was made really fast. Which is good, I think it's a good thing to learn things faster than you really are in control of . . . 'cause otherwise . . . you question other things, and you just kind of lose what was good about it in the first place."
— Jaime de'Medici
For the full feature, click on the issue cover or grab a copy of Illinois Entertainer, available free throughout Chicagoland.