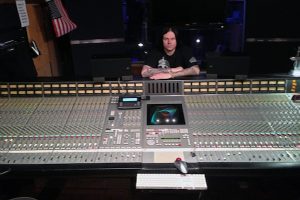 When Dungeon Of Noise studio owner/engineer A.J. Storm took ownership of the former ARS Studio space in Alsip, he started planning upgrades to the space (which was founded in the glam-rock year of 1974) immediately. The latest and largest puzzle piece was the purchase of the "Mercedes" of studio consoles: a Solid State Logic SL9056J.
With nearly 40 years of studio history packed into his location, he didn't make the decision lightly. "When we started thinking about installing an SSL it was quite a indecisive process. I wanted a console that was different than what most people had, something powerful [the desk has Ultimation and total recall accurate to .25 dB] and that wasn't going to be needing repair all the time. It's all about 'SuperAnalogue!' It's got both famed black and G-EQ on every channel, that really was the deal-breaker. We ended up choosing the Solid State Logic 9000J because of its platinum history and being a mainstay in just about every major studio across the country. Pretty much most major recordings reaching number one on the Billboard charts and released since 1997 have been mixed and or recorded on SSL consoles going back as far as 1984. Delivery and installation took about three months. We purchased the board from Pro Audio Design in Pembroke, Mass. who has also sold consoles to Al Jourgensen [Ministry, Revolting Cocks] and acclaimed local producer Johnny K [Disturbed, Megadeth, Sevendust, Nonpoint]. Los Angeles studio tech Bruce Millett, the guy known as the Desk Doctor [Metallica] came in and did the final few bits and gave his blessing.
"Local band Blah Blah Blah helped me break in the console by recording their next full-length album [tentatively titled] This Is For The Times [due for release in 2013]. The challenging task was making a record that wasn't just 'put together any which way' and that was seriously and painstakingly thought-out, [this] was helped by the new SSL. We worked just as hard recording and considering the parts as we did with the production aspect [co-produced by A.J. and Blah Blah Blah vocalist/writer/guitarist Solomon] and mixing," Storm says.
Chicago-based IV Labs' engineer/producer Chris Harden tracked and mastered the new Chicago Farmer album (titled Backenforth, IL) . . . psychedelic rockers Kava also recorded. Find samples on their Facebook page.
Chicago thrash-masters Diamond Plate welcomed new member, Matt Ares and are recording the follow-up to Generation Why? The band explained the lineup change to Blabbermouth.net: "Over the past few months, we have been writing and demoing songs for the next album. During that time, we felt that the chemistry between Jon [Macak] and the rest of the band wasn't as strong as it needed to be. We decided to move on, and find someone that shared the same passion to create the music that we've always wanted to make. We wish Jon all the best, and we want to thank him for being a part of this band. We are extremely excited to announce and welcome Matt Ares into the band as vocalist and bassist. Matt has really been a breath of fresh air for us, and in the first two weeks of jamming with him we were able to create an entirely new batch of songs and finish demoing the second album. Matt's voice and playing add new dimensions to our sound, and we can't wait for everyone to hear the band now."
Hey Studiophiler: To get your studio or band listed in "Studiophile," e-mail info on who you're recording or who's recording you to ed@illinoisentertainer.com, subject Studiophile, or fax (773) 751-5051. We reserve the right to edit submissions for space. Deadline for January 2013 issue is December 15. Start the new year off right, let us know who you are tracking.
Category: Columns, Monthly, Studiophile