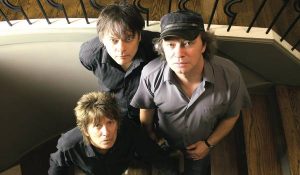 There was a sense of déjà vu as the three members of Shoes gathered in vocalist-guitarist Gary Klebe's home recording studio in Kenosha, Wis. to discuss Ignition, their first release in 18 years. And it wasn't simply because this writer was the same one who interviewed the band about its Stolen Wishes album 20-plus years prior at the Short Order Recorder studio in Zion. Klebe, vocalist-guitarist Jeff Murphy, and vocalist-bassist John Murphy have gone this route a number of times before, starting back in the mid-1970s. Regarded as one of the best power pop bands ever, Shoes are veterans of recording albums in their own distinctive style, at their own pace.
"In our ideal world, you do what you want to do, and still have it accepted," Jeff Murphy explains. "A lot of what we originally did was a reaction of what was going on [musically] at that time. It's kind of like that now."
"When you do it, you know what you're doing is completely non-commercial," Klebe adds, as sailboats drift on Lake Michigan, just outside the window of his lakefront house.
Devoted fans know the Shoes bio by heart, and it's also covered in a new book called Boys Don't Lie: A History Of Shoes, written by music critic Mary E. Donnelly. The band took a DIY approach at a time when it had never been done, by recording and releasing Black Vinyl Shoes on their own in 1977. The surprising success of that collection of 1960s inspired pop tunes resulted in a recording contract with Elektra, whose executives boldly predicted the first Shoes album on their label would sell five million copies. Despite MTV playing four Shoes videos on the music channel's inaugural broadcast, 1979's Present Tense fell far short of that goal.
"Elektra's expectations were distorted by the success of The Cars," John Murphy recalls, referring to the Boston-based band whose self-titled debut went platinum for the label a year earlier.
Klebe likens the situation to a baseball team firing a rookie for striking out in his first time at bat.
"Traditionally, labels were like baseball teams," he says. "If the kid's good, you build him through the minors and then the majors. Elektra wasn't in it for the long haul."
Elektra cut the band loose within a few years, but rather than giving up, they built their own studio, launched the independent label Black Vinyl, and even signed other bands. Their independent spirit has been inspiring countless musicians for decades.
"We were at the forefront of DIY," Klebe recalls. "Some people say we invented it." He adds that he and the Murphy brothers were reluctant to anoint themselves as the fathers of the movement since others artists like Todd Rundgren had also recorded in home studios by that time. Still, Rundgren had the help of a major label to release his finished products.
Even with all their experience, it had to be daunting for Shoes to return to the recording process, considering their previous output, Propeller, came out in 1994.
"It seemed surreal to be doing it again," Klebe acknowledges. "As things went along, we realized it was more than fascination. There was growth down the road and we really had something."
John Richardson, a drummer who had worked with Shoes on previous occasions (the band's original drummer, Skip Meyer, split decades ago) was brought in on the recording sessions. The harmony vocals and seamless playing on Ignition stem from the camaraderie that has served these three musicians so well on previous albums.
"We're a friendly band," John Murphy explains. "Nobody wants to step on anybody's toes. On the other hand, I want to hear the other members' ideas. In most cases, it works. They're not trying to do a 180 on it."
"It's like passing your baby around at a party," Klebe says of the band's collaborative approach. "There's nothing more important than making sure the baby doesn't fall."
"We have to be careful in suggesting changes," Jeff Murphy agrees. "We're very conscious of the writer's intent. The reason you're in a band is to get that input. There's no one I trust more than the other two guys."
— Terrence Flamm
For the full feature, click on the issue cover or grab a copy of Illinois Entertainer, available free throughout Chicagoland.