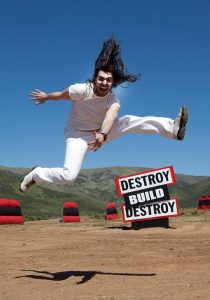 It will be hard for Riot Fest to sneak up on people this year – though unlike for Cinderella teams in sports, that's a good thing. Due to its previous construction as a multi-venue, à la carte/elective smorgasbord, Riot Fest gained higher esteem among punk aficionados and outsiders than average Chicagoans.
No more.
By taking over Humboldt Park Sept. 14 through 16 – with headliners like Elvis Costello, Iggy Pop, and hometowners Rise Against – founder "Riot Mike" Petryshyn has transformed a cognoscenti's private party into a festivus for the rest of us.
The temptation is to measure this punk-rock scheme against the ultimate baby boomer relic: Woodstock. Perhaps – as the influence of guitar-rock wanes on younger generations, and dollars flood in the direction of electronics-based dance acts – we're desperately learning that rock music of all stripes deserves a proper send-off. But. Maybe – as insisted upon by the weekend's ranging lineup – we've finally freed punk rock from its blue-mohawked safety-pinned stereotype, and embraced the ethos that "good music" is anything that gets you on your feet.
To that end, Riot Fest 2012 has already won. Unlike Lollapalooza or Pitchfork, no one handicapped the odds on potential headliners, and we were made breathless when it announced its lineup. Wow: Elvis, Iggy, Rise Against on home turf, Coheed & Cambria, The Offspring, Alkaline Trio, Built To Spill, Gogol Bordello . . . yeah, it reflects the occasional nearsightedness (Finally some metal! But where's the hip-hop?) of the aging, rockist class. But if it doesn't suit you? As Hot Water Music's Chuck Ragan reckons, "There's plenty of other great bands out there."
THE MAN HIMSELF
"It's a crazy time over here," says Petryshyn, on a Friday evening a full month before Chicago's Riot Fest opens. (Single-day Brooklyn and Toronto varieties launch a week earlier; Dallas bows a week after.) "You really need a full year of planning for it."
Petryshyn says that he and his partner, Sean McKeough, toyed with the idea of an outdoor Riot Fest in 2011, but decided against it. "We were debating why we didn't do it last year – it was logistics. We may have been able to pull something off in six or seven months, but it's not worth the risk of not doing it right."
While the two of them – and a team that has grown commensurately over the festival's eight years – agonize over food supplies for fans and bands and staff, machinations are already turning for the next year's event.
Though Petryshyn concedes that this year's lineup is "more about Riot Fest," his reputation for engineering surprise bookings will return with a vengeance in 2013. "We have a couple reunions for next year already that people are definitely going to be surprised by; reunions take a couple years to get. There's ones we've been working on for a few years."
He acknowledges that Operation Ivy, Minor Threat, The Replacements, and Big Black are all pipe dreams, but this year could mark a turning point as far as Riot Fest's rep.
"When Elvis Costello confirmed, for the next day or so we were all smiling around the office – and for Iggy, too." He continues, "I remember when I first started doing this, I said there's going to come a point when we can do 10,000 people and it's going to be on cruise control."
He laughs – partly because the challenges have intensified, but also that he's still learning.
"We didn't know if we'd get a general public, or if people who've been following us for seven or eight years were going to take the lineup. When we announced at midnight, I turned off my computer and was biting my fingernails and smoking until 1."
ANDREW W.K.
There's no way to prepare for a run-in with Andrew W.K., and the encounters themselves don't leave you with much to work off, either. "Party hard," and all it entails, can be unexpectedly disorienting.
On the phone from a Midtown Manhattan sidewalk cafe – at which he has just ordered a jalapeño margarita – W.K. arbitrarily melds the worlds of the intuitive and the spiritual.
"They said this would be a good thing to keep this party going. And that's all you have to say to me: 'Do this, and the party keeps going. Andrew – you seem tired. The party will keep going if you do this.' Hey, it's kept me going for the last six years, so I'm certainly thankful for that. I go along with whatever they say."
Who "they" are remains unclear, but the "this" refers to the voodoo-like inclusion of genuine bits of W.K.'s hair and jeans inserted into 10th-anniversary editions of his breakthrough, I Get Wet. Though he revels in portraying himself as a rumble-seeking menace ready to bull-in-a-china-shop his way through life, Andrew W.K. can get high-concept in a heartbeat.
Without much probing, he namedrops such elevated provocateurs as Greek visual artist Lucas Samaras and Japanese auteur Yayoi Kusama and prefaces their mention, "I know it's intense. And I apologize to you." Innocent questions reap Abbott-and-Costello-worthy answers of "I'd like to think I thought about it; I'd like to think at this point that I thought about it quite a bit, but now that I'm thinking about it I realized I didn't think that much about the thought I put into it."
Rock 'n' roll isn't dead; it's just not sure how to answer quite yet.
"You try to continue a great tradition that's not been going the last 100 years," he suddenly bestows with great clarity. "But we're talking a thousand years [of history]. But I would never be so bold to think I would formally be a part of that, but I set out to do something, and expressed that [to] what I thought were a very influential and powerful group of people, and they put me in touch with I'd like to say a real power source: a source of unlimited power. And I'm working off that source right to this minute. If it wasn't working, I'd probably be dead."
— Steve Forstneger
For the full story, visit the issue through our partners at ShadeTree, or grab a copy available free throughout Chicagoland.