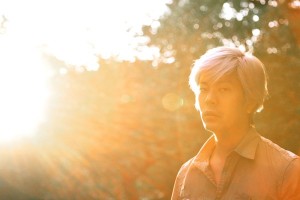 Ask ex-Smashing Pumpkins guitarist James Iha why it's taken him 14 ponderous years – an eternity in showbiz – to release Look To The Sky, the follow-up to his 1998 debut Let It Come Down, and you'll get a long pause in response. Then a wry chuckle. And then an innocent, "Umm . . . I don't have a really good answer for that." Another pause. "Other than I would say . . . well, after I did the first one, I kind of wanted to do other things instead of being like just a musician guy. So I tried producing, I started a label; I started a studio with friends. And I think for a long time, whenever I worked on solo stuff, I just felt it was too similar to the first record. Plus, I wasn't signed to a label, so there was no deadline, so it just took forever, because I wanted it to be as good as it possibly could be."
And he succeeded. Look To the Sky – so named, Iha says, because "in the lyrics there are a lot of elemental things about the sky and the stars and natural phenomena, so it felt like a positive directive as a title" – is rock-solid, and an adventurous step forward from the folksier, more acoustic Down. It opens with "Make Believe," a jangly neo-psychedelic ballad backed by the lissome vocals of Cardigans/A Camp diva Nina Persson, then tumbles blissfully into the huge Echo-And-The-Bunnymen-ish guitar thrum of "To Who Knows Where."
By then, the record's gathered enough steam to chug through "Summer Days" and "Speed of Love" – two sunny chimers reminiscent of Ian Broudie's Lightning Seeds (with Iha's cold, detached vocals echoing Broudie's, as well) – then the distorted blues swagger of "Appetite" (with all grinding axework courtesy of the legendary Tom Verlaine) and the pensive closing dirge "Waves," which was originally intended as an instrumental bridge. "Waves wash over me/Drag me out to sea/The tide pulls slowly," he intones, as if he's clinically observing his own suicide from above. The Yeah Yeah Yeahs' Karen O and Nick Zinner also put in an appearance, and Persson's husband Nathan Larson (of Shudder To Think renown) helped Iha co-produce the decidedly new wave retro set.
Of course, if you're feeling particularly studious – or simply extra-careful – about your compositions, it certainly helps to possess your own New York studio, as Iha does with Stratosphere Sound, which he founded with Fountains Of Wayne's Adam Schlesinger and Ivy's Andy Chase. He could drop in any day, at any hour, to capture whatever concept was occurring to him. And it's not some secret, private facility, he says. "It's a commercial studio – we have bands in from the outside and we have a studio manager who runs it. So I'm either there a lot, working on my own stuff or producing another band, or I'm not there at all. It's totally run on its own."
This is, however, just the tip of the Iha-project iceberg. The Svengali is proud of his latest Trilby – a scrappy Big Apple outfit called Hunters, whose EP and upcoming debut album he's recently produced. "They're an awesome noisy pop band, and they've already been on tour with The Kills and A Place To Bury Strangers," he enthuses. Then there's Tinted Windows, the great power-pop combo he and Schlesinger formed with Taylor Hanson on vocals and Cheap Trick's Bun E. Carlos on drums, whose bow was so well-received a second is in the works. "That was super-fun," he recalls of the spinoff. "Because I co-own [Stratosphere Sound] with Adam, and we produce bands together, I've always wanted to play in a band with him. So this was just an idea, where he said 'Hey, do you want to be in a group with Taylor Hanson?' And I said 'Yeah! Definitely!' And then playing with Bun E. Carlos, too? Not many people get to play with an icon like him."
Iha and Schlesinger's imprint Scratchie Records is, alas, no more. "We had a deal with New Line Cinema, and New Line just got shut down one day when they were taken over by Time-Warner," he sighs. "So our deal kind of ended when New Line ended, and there have been no other labels since then." He pauses, considering all that this closure implies. "You know, being in the record industry is hard. But being in the record industry today is really hard. You've definitely got to really love it to still do it. I mean, it was already hard to sell records in the first place. And the Internet came along and that changed it all. The Internet pretty much brought the record companies to their knees."
Yet Iha – through sheer number of creative outlets –  seems to be prospering. He's also a member of A Perfect Circle, with whom he'll soon be touring. He also maintains a DJ career on the side, and has so far scored three movies, including a great little Japanese indie called Linda Linda Linda. Over the past decade, he's worked with Annie, The Sounds, Isobel Campbell, The Postmarks, A Camp, Melissa Auf der Maur, and even Michael Stipe, Chris Martin, Karen Elson, and Cat Power. He also works on a fashion line from Japan called Vaporize. "I've done it with a couple of friends over there for ten years, and it's really fun," he says. "And it's fun just working on it with friends."
— Tom Lanham
For the full feature, click on the issue cover or grab a copy of Illinois Entertainer, available free throughout Chicagoland.