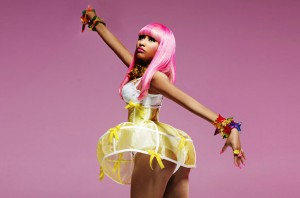 Though her public persona and her voice in her music suggests a frenetic cartoon character, the Nicki Minaj who performed Monday night at the Chicago Theatre often brought out another side of the MC. Throughout her set, Minaj came out as personable and affable, more charming and down-to-earth than the off-the-wall spastic perception she's fed. Throughout her performances, costume changes, and cotton candy-coated visuals, it was Minaj's charisma that stood out.
The entire evening, Minaj changed moods and tempos as often as she swapped costumes. Kicking off with "Roman's Revenge," the MC launched into her more aggressive productions. Included among them of course was the sparse and minimalist "Beez In The Trap" and "Stupid Hoe," the latter of which boasted a heavy low beat that reverberated throughout the room.
The pop star's Top 40 confections, meanwhile, proved more playful. The sizzling "Pound The Alarm" featured chiseled shirtless men and spry women in silver bikinis dancing to emphasize the song's summer-set sex appeal, while "Moment 4 Life" possessed a triumphant spirit, prompting Minaj to shout "If you're happy to be alive, scream!" at the song's conclusion. Of course, it was this year's inescapable radio staple "Starships" that featured one of the night's biggest feel-good moments, with Minaj sporting a blonde wig and pink princess dress. Though the track was pure bubblegum, all drenched in synths and shades of pink, the pop star proved energetic — but perhaps not nearly as frenzied as one might expect.
Yet what she lacked in manic panic, Minaj more than made up for in personality. Throughout her set, the pop MC identified and kept conversation with audience members, even allowing a few attendees to come onstage and contribute vocals to Young Money's "BedRock." In fact, toward the end, Minaj was keeping enough conversation going that the night started to feel a bit like a live podcast.
Elsewhere, the artist moved through quick teases of numerous mixtape cuts and collaborations, changing her verse on Kanye West's "Monster" to a pronounced declaration of "100K for a verse/two albums out!" By the time uber-hit "Super Bass" closed out the night with confetti falling from the ceiling, Monday's performance was cemented as an upbeat affair. As much as anything, that victory was due to Minaj's sincere enthusiasm and undeniable charm.
— Jaime de'Medici
Category: Featured, Live Reviews, Weekly