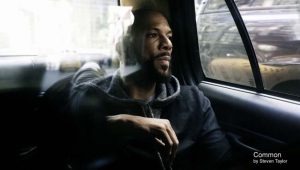 You may have noticed that we skip coverage of some pretty big-time releases each month. Sometimes, that's because the artists hold on to music until the last second, at which point we've already planned the next issue. But not this time, boyo! Common, Pistol Annies, and Elvis himself merit mention.
Common has always been at the vanguard of conscious rap and, being on the edge he's made some iffy decisions like Electric Circus. Universal Mind Control? His club-rat bid was downright lobotomous. While history has shown that the Chicago-bred rapper often over-corrects a folly like a hydroplaning, fishtailing motorist, The Dreamer/The Believer isn't a full-throated call to his more reflective self. True, it reunites him with producer No ID, and the opening track's coda features a spoken-word piece by none other than Maya Angelou. But the true reveal is the guest on the ensuing cut, "Ghetto Dreams," which features the equally mercurial Nas. More tellingly, the song's first verse — which directly follows Angelou's call to consciousness — jerks itself to a girl who looks as good as she cooks. As a collection, Dreamer/Believer rivals Be for side-for-side bangers, and No ID takes a star turn with a masterful mesh of his '90s and '00s selves. Common still shows bald spots that tempted Maxim-owned Blender into naming him one of the worst lyricists of all time (with his acting career on the side, "The Bitch In Yoo" is always on the margins of his "toughest" rhymes), but better he be himself than something he's not.
When former editor Michael C. Harris undressed Lydia Loveless' debut LP, we found ourselves nodding in agreement. So how could Pistol Annies possibly stand up? For one — like Danzig vs. all those Satanic metal types — the Annies seem to be in on the joke. Hell On Heels, despite its awful cover image, zips through 10 tracks while using country as an idiom and a setup, and actually turns its attempts at authenticity to elucidate failures (not toughness). Miranda Lambert, Ashley Monroe, and Angaleena Presley preen and pose, but with a sympathy for their archetypes. "Takin' Pills" doesn't toast to oblivion the same way the title track sees through its own posturing. Lambert, as Arsenio Orteza writes in our January issue, shows less inhibition in this context, which either helps or is helped by her colleagues.
Elvis Presley's 75th birthday — two years ago — unleashed an unfocused bleeding of his catalog, but few people could argue the sense behind reissuing Elvis Country. With a rollicking rendition of "I'm 10,000 Years Old" segueing the cuts like a chopped commercial, it drags post-comeback King back to his roots, and not without fanfare. "Country" in the '70s sure as hell meant something different in the '50s, but few could have predicted that opener "Snowbird" would have its melody doubled on sitar. (Let that sink in, for a moment.) The big single, "Funny How Time Slips Away," still marks as one of his great unheralded vocal performances, while gospel tries like "I Washed My Hands In The Muddy Water" and the stitched "10,000" version find his religious attempts at their zenith. Filling space, the accompanying Love Letters From Elvis is a slight letdown — a campy reminder that '60s Elvis was just a couple years away — but, in a chronological sense, he would never be this good again.
— Steve Forstneger