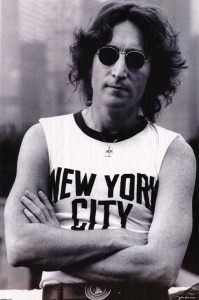 The John Lennon canon is now at the tipping point: with the release of the new 38-song Working Class Hero (Capitol) collection, there are now more posthumous album releases by the ex-Beatle than there are actual solo albums he recorded while still alive. So do we need another repackaged collection of the same old Lennon music that's been repackaged nearly a dozen times before?
The answer, simply, is no. Lennon's estate and Capitol Records may need the virtually overhead-free income, but what does this new two-disc set do for us fans? Not much. If you're a big Lennon fan, you already own all of this – probably in recent vintage where the masters have been tidied up. If you're a casual Lennon fan, any of the three earlier "best ofs" (one's even called The VERY Best Of) cover most of the same ground. Of course, if you don't own any John Lennon solo material and are looking for somewhere to start, this is a pretty good bet. While we can argue whether this lives up to its subtitle – The Definitive Lennon – as a fan I can attest to the fact that it's got all the hits, a nice selection of second-tier classics, and a few pleasant surprises.
If you listen to two-and-a-half hours of Lennon's music uninterrupted, you're struck by an undeniable fact: this is a very simplistic songwriter. A great many of his most emotionally powerful songs ("Imagine," "Woman," "Mind Games") are nearly nursery rhymes musically, and even some of his looser, more straight-up rock cuts ("Instant Karma," "Power To The People," "Cold Turkey") succeed more on the basis of his passionate delivery and a smattering of mild discordance than anything you could call musically masterful. But that simplicity is also precisely why so many people find meaning in Lennon's music: for all his genuine wit and egotistical bluster, Lennon wrote very heartfelt, sometimes naïvely innocent songs that spoke directly to the heart of the human condition. If it seems childish to "Imagine" or want to "Give Peace A Chance," or if it's hokey for a dad to revel in the joy of his "Beautiful Boy (Darling Boy)," or if we're all saps for wanting to find "Real Love," then shit: shame on us for forgetting our better natures.
Two nice treats included on this collection come from the 1984 album Milk And Honey, which Lennon was recording when he was murdered in 1980. "Grow Old With Me," based on a Robert Browning poem, is a disarmingly genuine and vulnerable supplication, and "Borrowed Time" finds Lennon musing on the "dramas" of youth. It's a buoyant affair, set to something of a Calypso groove, and it shines a light on the whimsical and silly side of Lennon that is too often overlooked.
— Michael C. Harris
Reprinted from December 2005.