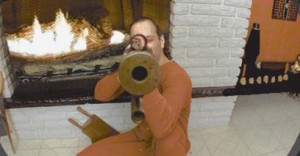 One more month to the scariest day of the year (and quickest to write on checks): 11/11/11! Macabre are even scarier.
We walked into a trap when we asked Macabre frontman Corporate Death if the band had written any Halloween-related songs: "Shotgun Peterson/Took his scattergun/Shot some people down/In Indiana towns." Corp acts as if the Chicago-based murder-metal experts are like those Christian sects that don't participate in the gift-giving portion of Christmas. "I don't answer my door and give out candy on Halloween."
Click here for our April Q&A with Corporate Death!
Click the October issue's cover to read the full feature, or follow the tabs to Monthly –> Features for the previous entries.