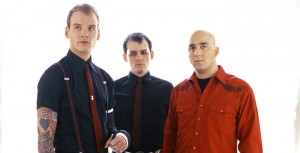 Three men, one band: 31! That's not all that relates Alkaline Trio to Halloween. They're from Chicago, and Chicago invented it!
Alkaline Trio embraced Halloween, especially in its closely timed local shows. "The only pressure was to avoid anything too cliché, or obvious," says co-frontman Dan Andriano, now recording with In The Emergency Room. "I think the last time we dressed up we were characters from the film Funny Games – I don't think the crowd really got it. I [still] dress up: my last good costume was Gallagher, which was amazing. But I ended up at a party with some younger folks and everyone kept asking, 'What's with the watermelon?'"
Click the October issue's cover to read the full feature, or follow the tabs to Monthly –> Features for the previous entries.