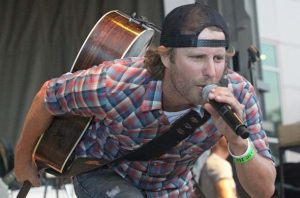 Dierks Bentley rolled into Chicago Sunday, led by Illinois State Troopers and followed by more than 300 bikers.
This wasn't your normal welcome for the country star, but this wasn't just an ordinary concert. Bentley was in town to promote his Miles & Music For Kids charity to benefit Chicago's Children's Memorial Hospital.
Things kicked off at the Fox River Harley-Davidson in St. Charles and ended up on Weed Street for an afternoon "fest" outside Joe's Bar. Set up on a rugged lot that until a few weeks ago was a car wash, Bentley batted clean up after Matt Mason, the Eli Young Band, and Jerrod Niemann warmed up the country crowd.
Bentley is a great frontman for this cause. Laid-back and quiet offstage, Bentley has eight number-one country hits and a new album that will drop in early 2012. Begun six-years ago in Nashville, these events have raised over $1.6 million for children's hospitals in seven U.S. cities. (He calls it a "win-win" for him and his fans that support the cause.) As a Harley guy, the ride gives him a chance to stretch his legs on tour and "recycle some of that goodwill back into the community." Not someone who just caught the riding bug, he took his original record company advance ($10,000) and used part of it on a 1986 Honda CX500. Well, things have changed a bit and now he usually trailers his 2003 Harley Softail.
When it finally his stage, a signed guitar had already fetched $10,500 from a generous guy in the crowd. It took some strong urging from his nearby girlfriend and a lot of high-pitched screeching from the local morning radio DJ running the show. But, it was for a good cause.
Bentley started with "Cold Cans" from the new album, "Feel That Fire," and "Am I The Only One." He moved through a good mix of 16 ballads and boot stomper,s ending with "Come Closer," "Free And Easy," and "Thinkin'."
It was a perfect Sunday afternoon in the big city. A lucky call in the weather department helped, perfect for a music and a few frosties, all for a good cause — that kind of day that will be remembered in that cold dead of winter that is right around the corner.
– Brian Ormiston
Category: Featured, Live Reviews, Weekly