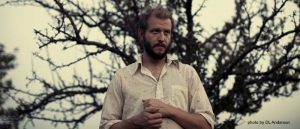 Say goodbye to the sad sack Justin Vernon exemplified on his 2008 stunner of a debut, For Emma, Forever Ago. Selling out the Chicago Theatre and surrounding himself with eight multifaceted backing musicians (everything from the violin to the trombone to the French horn was represented) Sunday night, the Wisconsinite shed the plaid shirt and rustic cabin-dwelling that fueled the lonely legend of Bon Iver for the ill-fitting, mismatched suit of an unlikely maestro.
Lyrics took a backseat to the lush, sonic earcandy emanating from the stage. It wasn't so much what Vernon said as how his endearing falsetto traipsed across the abstract minefields of "Creature Fear" and "Flume." Vernon pushed aside the pain in favor of bombastic interplay that seemed to rattle the very walls of the venue. Left solo with just an electric guitar for "Re: Stacks," the delicate hymn seemed rushed as if Vernon couldn't wait until the boys returned to continue the rambunctious unveiling of Bon Iver's self-titled sophomore release.
Lead single "Calgary" and the straight-outta-the-'80s closer "Beth/Rest" snatched the synthesizer right out of Duran Duran's hands and ensconced it firmly in the home that folk built, while the underlying brass made one nostalgic for the recently departed Clarence Clemons. Dueling drum kits and a makeshift a cappella chorus propelled the band's closest thing to a hit, "Skinny Love," while "The Wolves (Act I + II)," with its call for audience participation, swelled with triumphant emotion.
Always willing to provide a cover tune with a wink and a smile, Vernon veered off course and took on Bjork's "Who Is It?" instead of the obvious choice, Bonnie Raitt's "I Can't Make You Love Me." Keep those tears at home. Vernon doesn't have use for them anymore.
— Janine Schaults
Category: Featured, Live Reviews, Weekly