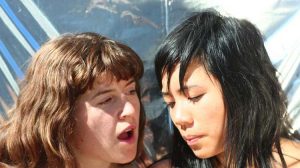 Monomynous indie-pop stars don't grow on trees. (There's a joke, What do you call people who only go by one name? Famous.) If two were to conjoin, you'd think artistic curiosity would necessitate they came from different fields. Thao And Mirah look to do the defining on their own.
Thao Nguyen and Mirah Yom Tov Zeitlyn didn't make a farce of this project however, nor their eponymous Kill Rock Stars debut. The enlistment of Tune-Yards' Merrill Garbus might skew interpretations of this record, and, given the proportions press clippings this trio have compiled as individuals and the clattering dancemoves dominating opener "Eleven," you'd expect either Thao or Garbus to lead the line. Surprisingly, it's veteran Pac-Northwesterner Mirah who seizes the opportunity. After joining for the curtain lift, it's almost as if the two purposefully split from "Eleven" for Thao to work on the edges ("Teeth," "Likable Man") while Mirah confidently steers the skronk ("Rubies & Rocks"), falsetto'd funk ("How Dare You"), and mesmerizes on her own when applicable ("Little Cup," "Sugar & Plastic"). Their Voltron power returns for the psychedelic solitude of "Spaced-Out Orbit," but for the most part this record should finally break Mirah to a wider audience. (Friday@Empty Bottle with Bobby (below) and Led To Sea.)
And what's this? Another uninomial singer on the bill? With a callsign like Bobby, you'd half expect an R&B archetype like Joe or Ginuwine. (The cover iTunes automatically assigns to his self-titled Partisan LP is Bobby Brown's Bobby.) Bobby is a band, however, a lush combo dependent on the intuitive harmonies between Molly Sarle of Mountain Man and Tom Greenberg. The ponderous album flits between Galaxie 500 and Chicago's In Tall Buildings, never missing an opportunity to startle you with its uncommon depth and ominous tension. Ain't nobody is humpin' around.
— Steve Forstneger
Category: Stage Buzz, Weekly