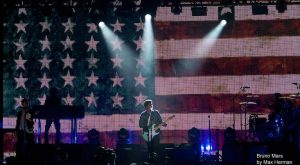 Halfway into the 24-city Hooligans In Wondaland tour, everywhere-on-the-charts Bruno Mars and leftfield multitalent Janelle Monáe hit Chicago, performing before a crowd as varied as the sounds on stage.
Everyone from packs of teenaged friends to middle-aged couples poured into the Aragon Ballroom for a bill that was opened by hip-hop act turned soul singer Mayer Hawthorne. Dressed in a white suit with a tambourine in hand, Hawthorne didn't pretend that the masses knew of him; instead he kicked off with his well-known cover songs, "Maybe So, Maybe No" (originally by The New Holidays) and his "G-Mix" of Snoop's "Gangsta Luv" to much of the crowd's approval. From there, he dropped straightforward soul tracks like "Make Her Mine," which are heavily rooted in the earliest days of Motown but still have enough appeal to get younger audiences listening.
Monáe has already sold out smaller venues as a headliner as well as gigs with Of Montreal in support of her conceptual debut, The ArchAndroid (Atlantic), but she was wise to join pop star Bruno Mars for a full-fledged tour. While Mars' overall sonic output naturally carries more mass appeal than Monáe's, both artists have a shared respect for the doo-wop and rock looks and sound of the '50s and '60s. You don't always hear that influence in her songs of the "Sincerely, Jane" variety, but when performing these smart but not-as-accessible singles at the Aragon, you still got a sense of authenticity. Monáe doesn't seem to second guess herself when performing or recording, which is admirable. At certain moments those unfamiliar with Monáe might not have been sure to react, but not enough to distract the flow of the show. When it came to performing her hit "Cold War," though, even the unaware clearly appreciated the hand-clapping explosiveness brought on by the expressionistic singer along with her gigantic band of musicians, backup singers, and spandex-suit wearing dancers.
Unfortunately, headliner Mars didn't collaborate on stage with Monáe like he did at the Grammys. He did, however, drop an all-out set featuring all the singles that so many Americans can sing verbatim. Much of Mars' catalog has that effect – particularly "Marry You," the song that got girls jumping and circles of friends forming dancing circles. But his set wasn't just a simple rendition of his hits – like Mayer Hawthorne, he harkens back to the music that influences him in the live setting. In Mars' case that included an intro for "Billionaire" that featured an abbreviated cover of Barrett Strong's iconic "Money (That's What I Want)." He and his backing vocalists also did a quick dedication to the Ritchie Valens style of '50s rock. As simple as some of his music may be, on stage, Bruno Mars proves that he is a well-versed musician who knows both what he likes and what his audience wants to hear.
–Max Herman
Category: Live Reviews, Weekly