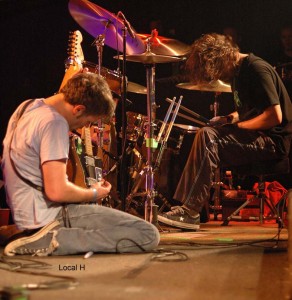 Naturally we want you to read all about the new issue, but, most of our featured artists play Chicago later in the month. The first seven days of May, however, are packed with great shows. Click on to find out more.
You need a license to own a gun, drive a car . . . you even need a license to catch a fish. But they'll give anyone a greatest-hits album. (We kid because we love.) Either there was a mix up at the plant, or Scott Lucas has some good dirt on the folks at Universal, but for whatever reason Local H has become part of the label's "Icon" best-of compilations (see Sony's "Essential" recyclery). While other bands of their era (Stone Temple Pilots, Smash Mouth, Sugar Ray) were built for these sorts of things, Local H's turned out surprisingly well for an album artist. It's also kind of a shock that they weren't more popular. Fittingly, this tour is called "All The Hits, All Night." (Sunday@Metro with The Weeks.)
Do you like to be brought crashing back to Earth with electronic blips and gurgles, or do you prefer the raw, callused chord voicings of a road-worn acoustic guitar? John Vanderslice and Damien Jurado have found fantastic ways to explore their fractured emotions over the years — 9/11 really preoccupied JV; DJ notoriously prayed for the death of a crippled sibling in song — though the way they present their material probably kept them from touring like this before. Vanderslice became a master of the home studio and a lo-fi orchestral/electronic pioneer, while Jurado probed the Americana/noir of Springsteen's Nebraska. Neither should be missed. (Monday@Schubas.)
Pegging Pavement as an indie-rock band's influence has proven as lazy and vague as calling a guitar-pop outfit "Beatlesque," but with Yuck it pretty much nails it. Of course, it would mean nothing (and we wouldn't even bother mentioning them to you) if Yuck couldn't write a worthwhile song, and their self-titled Fat Possum debut comes loaded with them. Their lo-fi, '90s touchstones are all over the yard (particularly J Mascis solos and slightly twee NW pop), yet by keeping the songs compact and fixing the sequence the tracks don't run together. Yuck's also brave enough to come out from behind blurry, distortion-washed burners and show their vulnerabilities on tracks like "Shook Down" and "Sunday." (Tuesday@Lincoln Hall with Tame Impala and Yawn.)
Perhaps fearing White Stripes fans got the wrong idea watching her front The Dead Weather, Alison Mossheart has turned the new Kills album into something drastically less theatrical and harrowing. Blood Pressures (Domino) could be a sister to PJ Harvey's Let England Shake, if you're into making simple comparisons between people who share a gender and don't feel a need to scare people every waking moment. "Nail In My Coffin" proves it's not a total retreat, but expect to stand a little more still this time.
Opener Cold Cave do sort of the opposite on Cherish The Light Years (Matador). Where the band's blogger-friendly debut prismatically splattered their high-EQ influences on the wall, this one points more emphatically in an electro-dance direction, with menacing industrial undertones. It can make for harsh, Depeche Mode dynamics when not conjuring Ponys or Stellastarr. (Wednesday@Vic Theatre with The Entrance Band.)
Every once in awhile, a pop performer whom we should be able to handle on a critical level exposes us. Artists like Joanna Newsom, Diamanda Galas, and Nico Vega deserve discourse on par with modern, classical essayists, not blurbs hidden among $10 bucket Thursdays and Every Bulls Game Live! ads. Baby Dee, who's not too distant from the Antony & The Johnsons conversation, sounds like he's onto more than IE's used to on Regifted Light (Drag City). Its baroque interludes and instrumental calisthenics produce colors, not notes . . . see, there we go trying to be all smart. But it is an absolute delight. (Thursday@Hideout with Loto Ball.)
Alternatively, other musicians prefer to play in black, white, and gray, existing as if one grainy Clash press photo were the only thing that ever mattered. If the Libertines were more fundamentalist about their influences, they might sound like countrymen Sharks. The band's debut, U.S. release compiles early material with new songs and will only fit on this summer's Warped Tour as much as Gaslight Anthem would. More appropriately, they've been out with Social Distortion and Hot Water Music's Chuck Ragan, spitting raspy barbs with a superficial ease that makes them sound like they're not working as hard as they are. (Thursday@Mayne Stage with Chuck Ragan, Elephant Gun, and Maribelle.)
Many of us instantly recognize the synth bleeps and hooks of '80s hits "Planet Rock" and "Looking For The Perfect Beat" and for good reason — Afrika Bambaataa & The Soulsonic Force put out some of the catchiest electro-flavored hip-hop ever. But Bambaataa and his influence in music reaches well beyond his own recordings. As one of the founding fathers of hip-hop, Bambaataa was one of the first DJs to mix breaks (snippets) of various styles of records at public parties in the Bronx and throughout New York. In doing so, he invited gang members and anyone around to get down with the then new culture of hip-hop. Some 25 years later and he has continued to spread the notion that hip-hop is more than rap — that it's a sum of many sonic parts. In Bambaataa's recent DJ sets he has been heard mixing electro, '70s funk, pop, and more. If there's one consistency, Bambaataa prefers to keep his sets higher on the BPM counter so it would be wise to expect a party when he hits the stage. (Friday@The Mid with DJs Maker, Intel, Trew, and Shred One.)
Chicago used to be overrun with bands like U.S. Maple, experimental outfits no one was sure they even liked but knew were goddamn amazing spectacles — sounding like David Yow giving birth to an adult cow's head would look. The former members haven't gone entirely legit, though Todd Rittmann has been kind enough to demystify his D. Rider project by spelling out the D. Now with additional bandmates, Dead Rider continue to explore the line between abrasive and intolerable on The Raw Dents, a sandpapery sister album to last year's Mother Of Curses. What it's not is an in-joke — generations of misanthropes would benefit from its exposure. (Friday@Logan Hardware with Microwaves.)
Finally, we have one half of the bill here, but we can't imagine something so untoward as ignoring the veteran portion. Unfortunately, And You Will Know Us By The Trail Of Dead will always be looked on by some as a failure, a great white hope that bobbled the baton handed off after At The Drive-In's dissolution. Brandishing progressive hard rock mixed with the best parts of emo (some call it hardcore), a perceived self-destructive streak (constantly battling their label) and self-seriousness seemed to get the better of them, yielding clunky alt-rock the mainstream didn't care for and their fanbase loathed for the hooks. It might be too late for them commercially, but Tao Of The Dead — foolhardy title aside — gets their feet beneath them again. Whether you say they're back to their strengths or mining past glories, the album is tighter than anything they've done in years, full of whiplash choruses and mind-melting compositional shifts. Perhaps aware of their fading potential, TOD damn the torpedoes and launch into a concept motif, something you can easily ignore if you just want to bask in the rocking again. (Saturday@Bottom Lounge with Surfer Blood and True Widow.)
— Steve Forstneger
Category: Featured, Stage Buzz, Weekly