On With The Showroom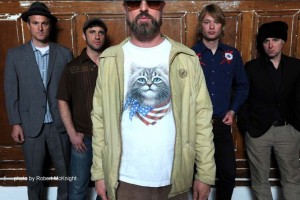 Sometimes taking time off between albums is the perfect recipe for a creative rebirth and commercial resurgence. Such was the case for Cake, who may have scored a string of eclectic singles from 1994 to 2004 ("Rock 'N' Roll Lifestyle," "The Distance," "Never There," "Short Skirt/Long Jacket," "No Phone"), but have been largely silent since, aside from some spot dates and oddball compilations. Even so, the Sacramento-based band's always held on to a hardcore cult following, which pushed Showroom Of Compassion to the top of the Billboard 200 — a career first for the generally lo-fi, but always inventive and often sardonic act.
Appearing: Saturday, May 14th at Riviera Theatre in Chicago.
As for the delay, co-founder/trumpeteer Vince DiFiore assures it had nothing to do with lack of musical ambition. Instead, the fivesome had a lot of behind-the-scenes details to clean up, including parting ways with their long-time label and starting their very own Upbeat Records.
"It started with disconnecting from Columbia Records, then it went to feeling like recorded music wasn't worth as much anymore and questioning why to put it out there, followed by wanting to work on an album," he explains. "The [last] record company asked us to put out a greatest hits album, but we did B-Sides And Rarities instead [in 2007]. After that, we started working on the new record and did so for about three years. We also averaged about 25 shows a year, which was enough to let people know we were still alive. Every time we took the stage, we were able to shake off the fear of being forgotten."
Other obstacles that kept Cake's sixth collection from completion arose from the decision to turn their recording studio into a completely solar-powered operation, which didn't just benefit the environment, but also helped curb cabin fever. And considering their tour buses aren't exactly friendly with their emissions, it also helped offset that impact on the environment.
"It came from guilt over being a touring band and wanting to do something to counteract all of the pollution that we create," says DiFiore. "We put 13 panels up and we wound up with a negative $60 balance on our electric bill, which basically put $60 worth of energy back into the city's grid. And personally, the sun eased things up a bit and made us feel better about what we were doing, especially since temperaments can fester when a bunch of grownups are in a small room together, day after day."
Between that extra literal space and having all the time in the world, Cake was able to add a fresh coat of paint to their pre-existing formula on Showroom Of Compassion. In late 2010, the pre-release single "Sick Of You" hinted at the coming direction, and rose to fourth on America's alternative charts and even went top in Canada (keeping the intricately infectious Cake hit parade alive). The current single, "Long Time," is a modern-day bookend to "Short Skirt/Long Jacket," complete with its bouncy bass, sunny horns, and cheery harmonies.
While the group's primary alternative/college-rock elements are still intact, veteran listeners are sure to notice an influx of acoustic pianos, additional reverb, stacked guitars, and a hearty dose of lushly layered harmonies. Some of the more ambitious tracks include the drawled guitars of the political satire "Federal Funding," the intentionally goofy organ-centered romp "Mustache Man (Wasted)," and the bizarre, baroque instrumental "Teenage Pregnancy." Frontman John McCrea is especially witty throughout the carnival-like comedy "Italian Guy," while further instrumental expansions unfold across the alt-country bent of "Bound Away" and a swinging, Vegas-y version of Frank Sinatra's "What's Now Is Now."
— Andy Argyrakis
For the full interview, grab the May issue of Illinois Entertainer, available free throughout Chicagoland.