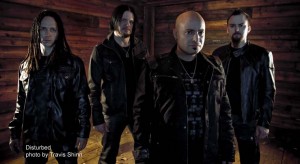 Not only did Disturbed hire a local producer to monitor proceedings for this summer's Asylum (Reprise), but they tracked it at a local studio. O.K., so guitarist Dan Donegan isn't exactly an outside hire (even frontman David Draiman and drummer Mike Wengren get themselves some co-producer credits), but Johnny K.'s GROOVEMASTER STUDIO in Chicago certainly qualifies as the latter. When the band were done, the tapes went off to PARAMOUNT RECORDING in Los Angeles for mixing and then increased their carbon footprint by flying all the way back across the country to New York's STERLING SOUND for mastering . . . Pop Evil and brotherly duo Aranda also traipsed around Groovemaster this summer.
Fate – as is its wont – did the twist years ago when the men who made up regional rock vets The Willing somewhat unwillingly became The Boyzz. Heartland rock at its core (not hip-hop, as those two Zs indicate), years passed and The Willing (at least those willing among them) have reconvened for a new album, Unfinished Business. Rich Wingstone, John Krahenbul, Chris Gough, Dan Smith, David Angel, and Kent Cooper recorded the album at RAVE SONG in the western suburbs, with Angel serving as producer and engineer. The tracks were then mastered by Danny Leake of URBAN GUERILLA ENGINEERS in Chicago.
The self-titled debut from In Tall Buildings is only the second full-length release on Whistler Records, the label affiliate of Logan Square free hangout The Whistler (where former Wilco instrumentalist Leroy Bach frequently performs). The album itself was self-recorded at frontman Erik Hall's digs, but he had it mixed at JIRA PRODUCTIONS in Chicago by Rick Fritz and then mastered by Shellac bassist Bob Weston at CHICAGO MASTERING SERVICE. The band appear on the 8th at Mayne Stage in Rogers Park.
At STUDIO VMR in Brookfield, Nate Johnson and Don Griffin finished some spots for Harpo Studios . . . Mike Gallagher completed a second song for his ongoing project. A few overdubs are yet to be tracked before Johnson and Griffin mix and then Griffin masters . . . Senay Jones worked on several new tracks with Johnson.
Bassist Collin Jordan goes by "His Airness" for The Interiors, who follow his tongue-wagging recording skills in the studio as well. The Teeth EP was recorded by Chad Meese in Kansas City's THE COOLER as well as by Jordan at ENGINE STUDIOS in Chicago. Jordan then mixed and mastered at his own BOILER ROOM. In the past, he has worked under Chicago metal guru Sanford Parker and done jobs for My Life With The Thrill Kill Kult and Chicago-based Graveface Records.
Symbolic of their efforts to rise out of the swamp and join the modern world, Humboldt Lagoon opted not to engage the mermen for an underwater mastering job of their self-titled album, but went instead to slap a wet, webbed hand on Doug McBride's shoulder, who put some tarps down before letting them into GRAVITY STUDIOS in Chicago.
Jealous hockey fans in other cities as well as crotchety Chicago Blackhawks fans could be heard harping about bandwagon jumpers as the NHL season draws to its opening. As much as we'd like to believe a certain local singer/songwriter moved from Philadelphia to Chicago once he saw what a winning team looks like (the Flyers have lost five consecutive Stanley Cup Final appearances), he actually came because the Brotherly music scene stinks, too. John Condron & The Benefit visited 1 BIT STUDIOS in Joliet, where producer Dave Lill could record and mix their Eleventh Hour. Catch them on the 30th at Chicago St. Pub in the City Of Champions.
RECORDING BITS: At PLANET10 STUDIOS in Barrington, Without Return started work on their new EP with producer/engineer Jimmy Johnson . . . Ex-pat Kyle Andrews writes to us from Nashville where he had to record his Kangaroo EP debut at home by himself, we think because there's no place in Tennessee that compares to the facilities available in Chicago. Chalk that up to another one of Mayor Daley's fine contributions to the city before he leaves office . . . Alysheba know better, and felt so indebted to RATTLESNAKE STUDIOS in Chicago that they named the four-song EP Rattlesnake Studio Sessions. Engineer Caleb Willitz handled recording and mixing duties.
HEY STUDIOPHILERS! Send news on whom you're recording/who's recording you to ed@illinoisentertainer.com.
— Steve Forstneger
Category: Columns, Monthly, Studiophile