The Niceman Cometh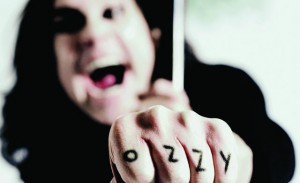 I hate to let the secret out, but the Prince Of Darkness Ozzy Osbourne is actually rather lighthearted these days. And well he should be. He's alive!
Appearing: August 17th at First Midwest Bank Amphitheatre in Tinley Park.
Yes, Ozzy's a walking miracle, and life is good in the Osbourne dynasty. He has a new album out, an 18-month tour beginning, a weekly newspaper column (on health, of all things), a second book in the works, and negotiations happening for a movie based on his life. "I'm doing more work at the age of 61 than I did when I was 21!" he exclaims. "I don't mind it though. I've been doing it for 42 years and it's amazing, you know?"
Amazing indeed. There's a funny scene in the beginning of his biography, I Am Ozzy, where he's at a doctor's visit, listing all the substances he has ingested over a few decades. When he's done with the page-long list, the doctor asks, "Why are you still alive?"
Osbourne's been substance-free for a few years now, and a healthy lifestyle seems to be paying off. "When you reach 60 people start asking, 'Are you ever going to retire?' I'm like, 'Retire from what?' I mean, I'm sitting at my house, talking to you in Chicago at 1:20 in the afternoon, how can I retire from this? It's not just a job, it's a passion for me. I realize how lucky I am. And if it wasn't for the fans I wouldn't have this luxury."
Beginning with the first Ozzfest in 1996, Osbourne and his business-savvy wife, Sharon, turned it into the leading hard rock and metal festival, attracting millions of concert-goers in the U.S. and Europe, spring-boarding the careers of bands like Slipknot, Black Label Society, and Drowning Pool, and leading the way for a cavalcade of Osbourne-branded ventures.
"I can remember when we did the first Sabbath album and I thought, 'Oh, I've got an album out! Great! I'll never get to put another album out!' Then all of a sudden it was a big hit, and then I thought, 'This will be good for another couple of albums,' then it was four albums, then it was 10 albums. Now I'm amazed I made it to age 61 — 62 this December. And I'm still doing it! I always said that if the audience diminishes, I'm not going to wind it down to doing a club-like tour. I'm going to back off when it's time to. Right now I'm lucky to be doing what I'm doing."
Ozzy is testament to the "never too old to rock 'n' roll" adage, and the success of his new album, Scream (Epic), proves the fans aren't going anywhere. Since its release June 22nd, it has claimed the number one spot on both Billboard's Rock Album and Hard Rock Album charts, and reached fourth on the Billboard 200. Some critics have said it's his best in 15 years.
"This new album I can't really take the full credit for," Osbourne says. "Kevin Churko, my producer, was the main man in the album, though we had our fair share of disagreements. But at the end of the day, my music is very personal to me. I'm very choosy. I'm also very self-critical. It's never good enough. But then it's not up to me. I have to leave it up to my fans. If they like it then it doesn't matter what I think! What I make of it is, the first thing I do is make the record for me, and if anybody else likes it then fine. If that's what they think great, I'm really happy about it."
The album's success means good timing for the return of Ozzfest.
After the difficult, but probably wise, business decision to skip it last year, Ozzfest comes back this summer, leaner and meaner, with only seven dates (including Israel). Osbourne and his team are fully aware of the effect the economy has had on the concert business, and they've made their moves accordingly and with a realistic outlook. This year's "no added fees" ticket price is one of those moves.
— Penelope Biver
For the full story, grab the August issue of Illinois Entertainer, available free throughout Chicagoland.