Surgical Precision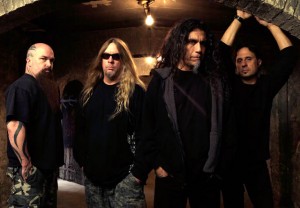 Things aligned nicely for Slayer in early 2010. World Painted Blood, the group's 11th studio record, was just released in November and entered the Billboard chart at 12, their third-highest debut in nearly 30 years together. The band would kick off the United States tour cycle in fine fashion by co-headlining with fellow thrash pioneers Megadeth. The two behemoths hadn't done an extended run together since the North American Clash Of The Titans (which also included Anthrax, who join American Carnage for a second leg in September) tour in the early '90s.
Appearing: 8/20 at UIC Pavilion (1150 W. Harrison) in Chicago.
Dave Lombardo was certainly in high spirits back then. Just weeks before the American Carnage opener January 18th, the Slayer drummer was at dinner in Tampa Bay, celebrating his new Ddrums endorsement deal with company representatives and friends.
Good food. Good friends. Bad news: Tom's having back surgery; tour's canceled.
"I couldn't eat anymore," Lombardo remembers.
Bassist/frontman Tom Araya's back was bad enough that doctors told him surgery was his only option. Araya went under the knife (a procedure called anterior cervical discectomy with fusion, where a herniated or degenerative disc in the cervical spine is removed and the vertebrae above and below the disc space are fused together), and suddenly Slayer were sitting on a brand-new album they couldn't tour behind.
"I was really, really disappointed, because of course, we were all hyped up on the new record," Lombardo says. "It was what it was. It was a bummer."
All of the sudden, Lombardo had a whole lot of free time . . . not something he necessarily enjoys. "I can't sit still," he admits. "I'm a hyperactive drummer, is what I am, so I always like to do things."
Bored and anxious, Lombardo needed something to keep busy. "I was hanging out at the Rainbow in Hollywood, and on Tuesday nights they have blues-jam night. So I was hitting the little four-piece drum set, and I was playing the blues with a bunch of guys," he says. "Then I decided to get a band together that I had put together back in '97 with Gerry Nestler — and recently found a new bass player called Pancho Tomaselli from the band WAR — and we put a band together. It's called Philm.
"We did a bunch of shows in L.A. and put a demo together — we're actually shopping it right now."
Lombardo is still working six months later, and thankfully — no offense to Philm; they're pretty rad — it's with Slayer again. When IE connects with him he's at a hotel in Frankfurt, Germany . . . and excited like it's January 2010 again: Araya has healed (but under strict no-headbanging orders); the rescheduled American Carnage tour looms a month away; and, oh yeah, Slayer just did a few European shows with Metallica, Megadeth, and Anthrax. It was only the first time those bands — collectively known in heavy metal as The Big Four — played together. Anywhere.
Sort of a big deal. "It was great," Lombardo gives as a stock reply, sounding tired of answering the question already. Work on him a little more, though, and it's evident he is just as excited about The Big Four as anyone else. "Too short! It should have been a little longer," he says. "I had a great time, we all did. It was an honor to play on the same stage as Metallica, and it's just, I think it's something that should be brought to the States and to the rest of the world."
He's confident it will, but that's in the hands of agents, managers, promoters, and lawyers, he says, because the bands got along splendidly. They're all eager to do it again.
— Trevor Fisher
For the full story, grab the August issue of Illinois Entertainer, available free throughout Chicagoland.