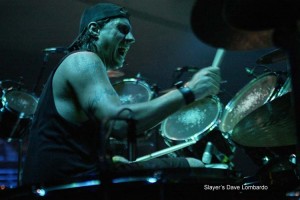 After being broadcast live to a European audience, the Sonisphere "Big 4" concert in Sofia, Belgium was hastily edited for broadcast in North American movie theaters on Tuesday.
For the most part, the concert — a super-hyped meeting of Metallica, Slayer, Megadeth, and Anthrax — went off without incident, save a little rain during Megadeth's set. In place of traditional movie previews were perfunctory backstage interviews (Lars Ulrich, Scott Ian, Dave Mustaine as a unit; Kerry King solo) that built into the afternoon's opening act: Anthrax.
Despite their own inner turmoil, if one of these bands were to accept going on first without regard to their ego it would be Anthrax. Opening with "Caught In A Mosh," the dynamic was instantly in place as the band would pile on relentless, high-tempo thrash while recently readmitted vocalist Joey Belladonna would work the crowd with his usual awkwardness and goofy facial expressions. The only band to really seem to grasp the occasion, the film performances limited the band to their '80s repertoire but allowed for the "Heaven And Hell" tribute to Ronnie James Dio in the middle of "Indians."
That first bit of semi-spontaneity (offered earlier at a similar Polish event) would be the evening's last, however. Perhaps that lies at the feet of the editors — each band received about 45 minutes — but otherwise the highly anticipated affair was dreadfully dry.
Dave Mustaine's refusal to work around his tattered voice maimed Megadeth's performance irreparably. Even the sight of reunited bassist David Ellefson couldn't distract from the mumbled falsetto that has become the frontman's upper register. Instead of operating an octave lower or hiring a replacement — Mustaine has no problem, mind you, altering lyrics to jive with his religious beliefs — he pushed through a wince-inducing gig that was more obstinate and arrogant than brave. The repeated bellows of "killing!" in "Holy Wars"; "You just laugh/ha ha, bitch!" from "In My Darkest Hour"; and an entirely questionable "Hook In Mouth" (a PRMC would have been the least of an Eastern Bloc's populace's worries in the mid-'80s) all suffered while his band gamely if blandly plucked away.
The evening could have ended after Slayer, so much did they kill. Appearing worse for the wear, frontman Tom Araya's back problems had no effect on his voice, which commanded King and Jeff Hanneman's blistering, divebomb-riddled blitzkrieg. While Slayer's detractors were no doubt unimpressed by the lack of ideas musically, their approach and tightness could not be questioned. From "World Painted Blood" to the obligatory "Raining Blood" finale, the errorless set was so relentless you could feel the atmosphere change during split-second breaks in "Angel Of Death" as the collective Vasil Levski National Stadium drew its breath.
As you can imagine, Metallica's big-top theater stood in glitzy contrast. Earlier that day, Anthrax's Ian introduced "Metal Thrashing Mad" as the sentiment of why everyone was there yesterday, but such could not be said of the headliner. Increasingly a collection of individuals, it was difficult to focus given the spastic lights and video, James Hetfield's wild gesticulations, Ulrich walking around his kit, Kirk Hammett's 'tween-song solos, and bassist Robert Trujillo prowling around like Spiderman. Nothing garners criticism like success, but Metallica recklessly invite it. Instead of a laundry list ('50s-style microphones, Hammett playing with the fluidity of someone who never changes his strings), it'd be asinine to ignore what Metallica did right, and that was the stage.
The first three bands seemed to be dwarfed: Anthrax a simple banner, Megadeth oversized Rust In Peace props, Slayer the anonymous wall of Marshall stacks. Metallica, by virtue of two ramps leading to an underutilized, raised portion, were thrust on top of the crowd and made more intimate by Ulrich's lack of a drum riser. It aided their energy-level immensely, especially for Hetfield who absorbed cheerleading responsibilities after Jason Newsted left. His animae restored, gripping renditions of "Creeping Death" and "Master Of Puppets" maintained astonishingly intense levels despite living on opposite ends of the setlist.
— Steve Forstneger