Gimme Gimme Sound Treatment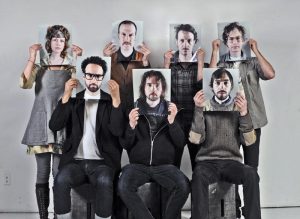 Broken Social Scene
Though based near Woodstock, New York, GIMME THAT SOUND PRODUCTIONS has deep Chicago ties. Founder Stephen George was the original drummer in Ministry and left in 1984 to form Colortone. Using his major-label connections, he began producing albums for Ric Ocasek and Jane Wiedlin. Within five years, he became chief engineer at Chicago's Battery Studios – run by Zomba/Jive Records – where he developed a close relationship with R. Kelly. After a move to New York he worked recordings from Lil Jon, Luther Vandross, and Maroon 5, before landing upstate.
At ENGINE STUDIOS in Chicago, Sage Francis recorded I, out in May on Anti Records (Neko Case, Tom Waits, Nick Cave) . . . Nathaniel Rateliff recorded with Brian Deck . . . Neil Strauch has been busy with Allá, Beak, Sybris, Anthony Alban, and Green View . . . Jake Westermann completed projects with Seafarer and Flame Shark . . . ENGINE, CREATIVE CAFFEINE (Nashville), and ELECTRIC HOUSE STUDIOS all take credit for Run From Dogs, the debut full-length from Luster. The 11-track album disperses credit among Strauch, Colin Peterson, and bandmates Bryan and Jeremy Mederich respectively, though mastering was handled by Greg Calabi at STERLING SOUND in New York.
At I.V. LAB STUDIOS in Chicago, Automata recorded pieces that would become their debut EP, Microcosm. Jay Marino and Man-ny Sanchez assisted in the sessions; the band open for Apteka and Dast-ardly at Lincoln Hall on June 19th . . . Recent projects also include Miracle Condi-tion's The Wand-ering Y, Alger-non's Ghost Surv-eillance, a Love In October track, and Umphrey McGee's Mantis.
Mahjongg's The Long Shadow Of The Paper Tiger was not recorded in a laboratory, but Benjamin Balcom's MINBAL STUDIO on Chicago's West Side. Releasing in July on Washington state's vaunted K Records imprint (Kurt Cobain had the label's logo tattooed on his forearm), Mah-jongg and Balcom share recording and mixing credits, but took TLSOTPT to the South Loop's SHAPE SHOPPE for mastering.
At SOMA STUDIOS in Chicago, Broken Social Scene tracked bits of this spring's Forgiveness Rock Record (Arts & Crafts). Co-produced by the band and Tortoise's John McEntire, it's their fourth album but surprisingly first since 2005's self-titled set. Following a litany of side-projects, McEntire and the band pulled the plug on the usual merry-go-round of guest artists resulting in a less claustrophobic sound. They co-headline Friday night at Pitchfork Music Festival in mid July with Modest Mouse.
At UP ON THE ROOF RECORDING in Lombard, owner/engineer Mark Blas finished projects for Tanglewood, Amanda Lauricella, and 28 Days.
UPTOWN RECORDING in Chicago has various recent sessions online featuring Alkaline Trio's recent stopover for Q101, Ingrid Michaelson tracked a song, and Three Days Grace. The studio also has its own YouTube channel for your studio-voyeur pleasures.
Windy City Rev-Ups set aside time in their busy schedule in June for the recording of an EP of new material at their own WCRU STUDIOS in Glendale Heights. Following another break, sessions will hopefully end in September with a late fall release planned. The band also plans to record their set at Taste Of Chicago. Frontman Rich Reminger says, "We have enough material for two or three CDs, but, depending on how the sessions and live show goes, we may pare it down to one CD or an EP."
Category: Columns, Monthly, Studiophile