Finding A Balance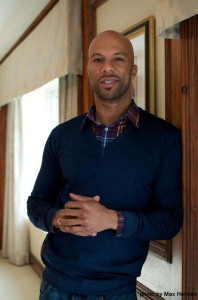 It's been a long road for Common to get to the point where he is today: superimposed on billboards embracing Queen Latifah on the poster for the new film,
Just Wright.
Talking to Common about Hollywood in the ultra luxurious Four Seasons hotel on Michigan Ave., it would be easy for him to dismiss his hip-hop beginnings around the 87th St. South Side hood. But he doesn't. As amped as this Chicago-reared artist is about his ascendant acting career, he gladly discusses the importance of bringing his music back to where he began – a college-aged kid trying to find his way in the world atop rugged, jazzed-out beats by Chicago legends like No I.D.  
Of course, a lot has changed for Common since the early '90s, including controversial albums like
Electric Circus,
high-profile relationships, and the leap into acting. But amid all that, the Chicagoan is still grounded. While our time was limited, IE spoke to the MC/actor about his forthcoming album,
The Believer
, and his new role as veteran NBA star Scott McKnight who falls in love with his physical therapist (played by Queen Latifah) in
Just Wright
. Moreover, he addresses the notions that rappers who attempt to act are prone to lose their edge on the mic.    
IE: A lot of your acting roles so far have been villains, so what was that like taking on a romantic role [in Just Wright], taking that leap? How important was that to you?
 
Common:
Man, that was very important to do that because I never want to be stereotyped or put in a box. And I knew that I could do diverse roles or roles of a wide range — roles that have intimacy and sensitivity to it along with roles that may be action or roles that are dramatic and deal with pain and developing. So I knew that I could do that. I knew I could accomplish those things so I just wanted to be provided the opportunity and this movie was a great vessel for that because my character was showing a different side that people hadn't seen of me as an actor: the romantic side, a more sensitive side, and even the athletic scenes are a different side too that people never knew that, "Oh, man, he used to play basketball."  
IE: Right, I was gonna ask you about that. Yeah, it's a movie, but you seem like you were going toe-to-toe with Dwyane Wade. How was that practicing on the court like that?
 
C:
Man, I hope Dwyane calls me for summer league games [laughs]. That was such a fun experience to be like, "Man, I'm on the court playing against one of the best players in the world — definitely in the top five players in the world." Playing against these guys like Rashard Lewis, you're playing against the best players in the world and you get to see how your game face is up against them. Me being the competitive person that I am and me coming from a background of playing basketball, all I know is to attack and to go. So I just wanted to see where I stood up with those NBA greats.  
IE: On that note, the role must have been a pretty natural thing as far as the basketball element cause you've always been a part of that.
 
C:
Even though I haven't played ball as much recently, I used to play when I was younger in working and doing other things, but when I got back to playing, it felt like re-kindling a fire. It was like, "I gotta start working on my J!" I would train with the assistant coach for the Nets and man, we just made it happen.  
IE: So what do you want to do now with roles? Where do you want to take the acting thing?
 
C:
I would like to take on more diverse roles too in a way that maybe I'll play in a comic book film, maybe I'll play an action hero, maybe I'll play in a dramatic film — playing a pastor that's conflicted. Maybe I'll play Marvin Gaye in a movie, maybe I'll play a scientist in the film. I just want to do diverse films and make a dope range from me doing voiceovers and animated films to me doing dramas. I want to do all those things and basically flourish and try different things and just have fun with it and explore cause as an actor you want to keep growing, keep growing and becoming greater and taking on roles that challenge you. As a musician, I always wanted to keep growing as a musician. That's why I try an album and did things like
Like Water For Chocolate
or
Electric Circus
or
Be
and then
Universal Mind Control
— different things that show different colors the same way I would like to do as an actor.  
IE: I was about to ask you about Universal Mind Control. Obviously, that was a real specific sound. Some people liked it, some people didn't, but you felt like you had to go there?
 
C:
Yeah, I felt like I wanted to go there. One thing I can say as an artist, I always expressed my truth and my vision and no matter if the world was there or the record label was there or if my friends were there; sometimes they met, sometimes they met at the same place, sometimes it was just like I was in my own world. But I felt that it was always necessary to do that because if not, you're gonna feel balled up and you not really being an artist – an artist can't sit there and wonder man, "Well is my mother gonna like this?" or, "Is my homies gonna really dig this cause I know it's different. It's what I want to do, but I don't know if they gonna like it so maybe I shouldn't." You can't have fear when you create.  
IE: So with The Believer a lot of people are saying this is where you return to your roots. What's the status on that? Is it still happening with No I.D. and [Twilight] Tone and everything?
 
C:
Yeah, No I.D., Tone, Kanye West — this is returning to the roots. It's a good time just to be able to express just like you said the truth of who I am and it's like coming home, but it's a new cycle again — a new cycle. I remember just starting with
Electric Circus
coming to
Be
— a new cycle.  
IE: So how do you that though? How do you return to what people love from Resurrection but make it a part of the new you? How do you accomplish that?
 
C:
Part of that is you really gotta be there — you gotta be really wanting to hear and create some hip-hop like that. See, if I didn't get a
Universal Mind Control
out then I might not be able to do
The Believer
because I'm really there to be like, "Man, I wanna hear some boom-bap the way my life is right now — I wanna hear some music that's inspiring, that's like the boom-bap that describes what hip-hop was to me but what it is now and what I want it to be." That's what I wanna hear.  
IE: Any details of the status of it? Is it done?
 
C:
Nah, it's definitely not done; it's more like I'm working on it, man, but I've been working on doing this [acting] so I can't shortchange music. I gotta make sure I'm focused on that music. Your boy Chris Rock said to me, "Why is that when rapper's start acting their music just gets wacker?" And I was like, "Man, I'm gonna try not to do that." So I wanna focus on my music when I can, too. And not that I can't do both at certain times, but overall when you in a heavy campaign promoting a movie or working on a movie, all engulfed in a role it'll be tough to give your best raps and I want to give my best raps all the time and be creative and immerse myself into music too.  
IE: You don't want to shortchange yourself?
 
C:
With anything I do, I want to do it to the best. I want to be at the highest level of achievement.
— Max Herman