Saturday, May 22nd, 2010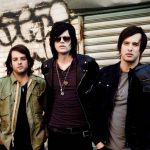 Get your weekend in order. This weekend has Lucky Boys Confusion offshoot AM Taxi, a special set from The Steepwater Band, and, of course, the Country Throwdown.
We won't say too much because we don't want to spoil Tom Lanham's feature in the coming June issue, but it'd be somewhat brainless to ignore AM Taxi's opening slot for The Spill Canvas. Adam Krier (ex-LCB) goes from one American icon (Fred Astaire) to another (Bruce Springsteen) on his new band's Virgin debut, We Don't Stand A Chance. (Astaire was from Nebraska, and the Boss has an album called Nebraska — coincidence?!) When the story lands next month, Krier explains how his goal is to just keep rock simple. (@Metro opening for Spill Canvas and Tyler Hilton)
Rustic types The Steepwater Band play around town so frequently it's easy to forget they aren't a cover band. Close companions of Marc Ford (ex-Black Crowes), this weekend's set promises a double dose of Steepwater history: Revelation Sunday and Grace & Melody played in each's entirety, back-to-back. (@Double Door with The Sights and Miles (son of Rick) Nielsen)
IE gets a lot of grief from country fans for paying attention mostly to the "insurgent" Hideout/Bloodshot crowd, and not enough to the Nashville stuff. Well hopefully our endorsement of the Country Throwdown tour will sate some of y'all. You've probably already digested our Q&A with Montgomery Gentry's Eddie Montgomery, from there you'll have to wind back through the lineup featuring Jamie Johnson (reviewed in past issues), Oscar-winner Ryan Bingham (reviewed in back issues), Jack Ingram, Little Big Town, Eli Young, Eric Church, Emily West, and more.
— Steve Forstneger
Category: Stage Buzz, Weekly