VARIOUS ARTISTS
Next Stop . . Soweto (Strut)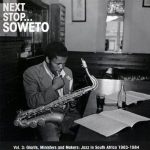 South Africa's "Mbaqanga" age evolved in the shadows of apartheid, marrying Zulu folk with Western jazz and pop found on the (literally) black market.
As is to be expected from any compilation attempting to draw a ring around a scene or sound, Next Stop . . . Soweto wanders for stretches, frequently stopping the bus in tourist spots where even the language barrier can't preclude vapidity. As also is to be expected, when you get real musicians (Mahlathini & The Queens, Amaqawe Omculo) locked into a groove cultural obstacles vaporize. Invariably, this ass shakin' never ceases to flaunt the resilience and spirit of the world's oppressed.
–Steve Forstneger