Escaping The Matrix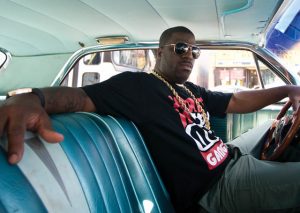 "My real name is iller than my rap name," declares Che Smith, the Chicago-reared MC better known to hip-hop fans as Rhymefest (and as co-writer of Kanye West's "Jesus Walks"). Talking about the meaning of the title and concept of his long-delayed sophomore album, El Che, Rhymefest has left the major-label life behind and is ready for change in his career and community.
Named by his grandfather, Rhymefest was strangely never told by family what Che meant. When curious, he was simply told to "go read." But over the course of his 32 years, he has learned just why he shares the name of Latin American revolutionary Ernesto "Che" Guevara.
"My real name really encompasses who I am as an artist and I am a revolutionary artist," he says. "I am somebody who takes risks, I am someone who concentrates on his community and the world around him. So when I speak of Che Guevara, that's what I think of. I was named that for a reason. I encompass that into all that I do — not in a delusional, pick-up-your-gun and a whole tribunal type of way, but in a way where [you] create revolution for your community through your art."
Before Rhymefest could complete potent new tracks like the no pain, no glory anthem "One Arm Push Up" and the rest of El Che (due May 18th on DNBe Entertainment), he has gone through his share of career-related obstacles. Since dropping his J Records debut, Blue Collar, in 2006, Rhymefest has been viewed by some as not being the most active MC in the game. Despite releasing the memorable, Michael Jackson-inspired mixtape Man In The Mirror with Mark Ronson, 'Fest has admittedly been busy with other endeavors. When not traveling abroad, he was developing a pilot for an urban-themed puppet TV show with friend West (for Comedy Central), writing for other acts among other gigs — all of which pulled Rhymefest away from rap.
"While I was doing all of this stuff and living this life, I was kind of oblivious to the fact that Rhymefest the brand was not being on the scene," he admits. "I wasn't touring and then Cool Kids and Kidz In The Hall start coming out, and I was kind of oblivious as to what was going on in hip-hop because I was just operating in my own world. And then I turned around and things started to fall apart."
When speaking with Rhymefest he makes a lot of references to The Matrix — especially when recalling his post-Blue Collar years signed to J subsidiary Allido. "Remember in The Matrix, when the guy says, 'Man, this steak tastes so good even though I know it's not real?' That's what it's like being on a major label," he explains.
With a six-figure advance, apartment in Manhattan's Financial District, and other luxuries provided by the imprint, 'Fest had it good financially for a minute living in what he calls an "illusion." But the luxuries faded quickly as did his projects. First, Comedy Central didn't pick up the pilot. Then, the tracks he had recorded for El Che were leaked off his stolen iPod and uploaded. As J Records had already paid for collaborations with Lil Jon and Jadakiss, they were hesitant to fund further recording sessions. As he explains, "My matrix started to fall apart."
After considering signing a separate deal with Ronson's Allido, he discovered that they were fully focused on promoting their newest artist, Wale. Without the support he needed, Rhymefest opted to amicably leave J and Allido to take the indie route, linking with DNBe Entertainment and getting back to reality, pre-matrix.
"What I had to do was go out here and take the other pill and try to control my own destiny so that anything that I accumulate is actually tangible — it's actually something I can touch. It's not an illusion," he says while sticking to the Matrix analogy.
Among all the strange business woes 'Fest faced the past four years, he's quick to dispute reports of him falling into a depression after his songs leaked. In fact, it's one of his more persuasive moments in our conversation.
"There's nothing that any man or any human on this Earth with the exception of God almighty can do that will depress me, because I don't humble myself before men," he argues. "I don't consider myself under any man's law or thumb. So I can't be depressed. I started with nothing so anything that I ever get is a bonus. And nobody can take anything away from me because even at the end of the day, I'll end with more than I started with."
Restructuring his career, he fired back in the spring of 2009 with The Manual mixtape — a true-school-minded collection of hearty hip-hop. Joined by golden-era legends CL Smooth, Big Daddy Kane, and even Queen Latifah, Rhymefest delivers parody ("Tender Thug"), community-minded material ("Pulls Me Back"), and unadulterated lyrical beatdowns (the DJ Premier-produced "RNQ"). While not getting an overwhelming amount of downloads, this mixtape saw the Chicagoan step back up on the right foot.
One year later with El Che, Fest digs deeper into his experiences since 2006, speaking on custody issues, the South Side of Chicago, and of course record-industry woes. But 'Fest isn't caught whining — instead he tries to think outside of himself and take the perspectives of others here. On one of the most conceptually unique new tracks, "Truth On You," Rhymefest cleverly trades verses with Twone Gabz as the two MCs regurgitate the many rumors that have been spread about them in recent years. 'Fest talks a lot about what people said during his down time, reciting chatter like, "He used to be so brand new/but who knew?/He ain't true/He got four kids and only claim two."
He may not get depressed about the trash talking, but he hears it and doesn't hesitate to address it. Comparing life to a video game, he says, "I've passed certain levels that other people only dream of passing. I did a world tour through Israel and Australia, stayed in Australia for a month, stayed in Israel for three weeks. I've seen things . . . I've walked through Palestinian territories — prayed to The Dome Of The Rock!"
Given his experiences, Rhymefest makes for a great storyteller on El Che whether imagining drunken dazes ("Last Night") Or recalling dodging gunshots from gangs ("Give It To Me") with vivid lyricism. But this MC still has the raw, battle-rapper agility in him as heard on the opening track "Talk My Shit." Over a heavy, hand-clapping backdrop, 'Fest calls out nerd rap and former record-label associates then restates his place in the rap game: "Used to be on J Records/wrote some Kanye records/next Grammy's just mine/this is El Che's record!"
"I feel like this is what my audiences are waiting for," he says. And this time they can taste it for real.
— Max Herman