Use Somebody Already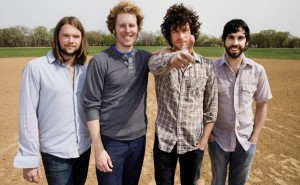 Move over Caleb Followill. Ye of grizzled, sultry croon that could tear the very clothes off a fair maiden just by hitting the right sequence of notes must contend with a redhead from the Ozarks, who miraculously possesses a similar ability to defrock fresh-faced coeds with merely the sound of his voice. Followill's sex may be on fire, but Ha Ha Tonka's frontman Brian Roberts maintains a similar firebrand even while namechecking Dostoevsky and Thoreau.
Appearing: May 14th at Lincoln Hall and 15th at Reggie's in Chicago.
On the surface, Missouri's very own could serve as doppelgangers to Kings Of Leon: four, virile young men with suspect facial hair, Southern roots, swashbuckling guitars, and spine-tingling harmonies. But, here's a little secret the Grammys and the "Eric & Kathy"-level agenda setters don't know: this foursome, named after a state park, surpasses anything the Followill clan conjures up.
With two albums under its belt, both released on Chicago outfit Bloodshot Records, Ha Ha Tonka weaves Old World sensibilities within the framework of a society suckled on a 3G network. Both 2007's Buckle In The Bible Belt and 2009's Novel Sounds Of The Nouveau South offer snapshots of days gone by taken with a digital camera. Stealing a descriptor from drummer Lennon Bone, Roberts characterizes the band's sound as a "cross between indie rock meets O Brother, Where Art Thou?"
Roberts and co. can do without T-Bone Burnett's quirky arrangements or George Clooney's star wattage. Brett Anderson's surging guitar (Michael J. Fox could have easily wowed the kids at the end of Back To The Future with an Anderson lick in place of Chuck Berry) and Lucas Long's rampaging bass give songs like "Walking On The Devil's Backbone" and "Hold My Feet To The Fire" heft and enough gripping detail to pour over through a set of headphones. And then, of course, there are Roberts' pipes.
He takes the lead singer role in stride. "These questions are hard to answer because I am a humble, bashful individual," Roberts says over a shaky cell phone connection.
The term bashful has more in common with a diminutive Disney character than the leader of a rock 'n' roll band. "Well, that's true," Roberts admits. "I'm the most uncool lead singer of probably any band. I have the great luxury of being on stage and knowing that nobody in the room, or no female in the room, is looking at anybody on stage other than our bassist Luke Long, so that makes it much easier. I'm more than willing to hand over the attention."
Roberts almost makes it seem like he drew the short straw when it came to filling the band's open slots after forming at Missouri State University earlier this decade. Compared to childhood dreams of playing baseball for the St. Louis Cardinals and studying German and International Relations in school for a post as a Foreign Service Officer, fronting a rock band for a living must feel like a compromise.
In all seriousness and underneath his deadpan humor, Roberts relishes life on the road while fervently looking forward to a two-month long tour opening for Murder By Death that concludes with two dates in Chicago (which allows time for a coveted group field trip to Wrigley Field). Joining Murder By Death on this outing forced the band to rearrange its own previously scheduled tour, but the pros outweighed the cons, especially in terms of setting foot in new territories.
— Janine Schaults
For the full interview, grab a copy of Illinois Entertainer, available free throughout Chicagoland.