Not A Question Of If, But When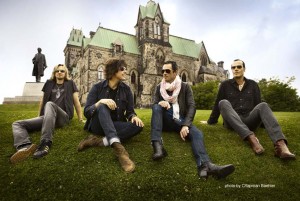 Reunion rumors can be tedious. Scratch that. They're a bitch. Jimmy Page wants more. John Paul Jones isn't averse. Robert Plant would rather chop-stick his eyes out, and probably will if people keep asking. And that's the key, isn't it? Keep asking.
The Police caved. Pixies caved. Pavement caved. Two versions of Black Sabbath have roamed the past decade. No Doubt, Simon & Garfunkel . . . the list is long and accordingly undistinguished. You set 'em up, the public checks them off.
Stone Temple Pilots were in a less-defined situation. True, the fireworks ignited during their early-2000s implosion couldn't have made things seem more final unless one of them had died. But they'd been there before, in '96. And less than a decade later, the train again ran off the incomplete track. Drummer Eric Kretz retreated into a studio-based career he'd pined for; the brothers DeLeo took advantage of their relative anonymity and tried several projects; and lanky, strung-out frontman Scott Weiland joined Velvet Revolver, of whom no one expected anything but a spectacular clash of egos. Still.
According to Kretz, he welcomed the time apart. Couldn't have come at a better time. "That's when I started building my recording studio," he says from Los Angeles. "Pretty much right away. It's something I'd always wanted to do. Just found a building to do it in. Here's the opportunity, just jump in there to work on different bands and different projects. One of the things I was doing was music supervising for 'The Henry Rollins Show,' which was great. We had Damian Marley, Slayer, Thom Yorke, Black Rebel Motorcycle Club, Ryan Adams, Iggy Pop — so many great bands came through my studio and it was fun being on the creative side of a TV show."
But it's a funny thing about people: They're the worst. It wasn't long before Kretz was seeing through peoples' phony smiles to read them mouthing, "So, when's STP getting back together?"
"What I found was, when bands came in [to the show], they were all, 'What's going on?'" he pauses. "'When's STP getting back together?' They'd all say the same thing. Over the years, Robert and Dean found while they were working on Army Of Anyone, 'Great band, great record . . . When's STP getting back together?' When Scott was out with Velvet Revolver: 'Great band, wow this record's good. Great live show. So . . . when's STP getting back together?' At a certain point, you have to realize, 'I'm not going to get away from that. I'm only going to be something that people want to hear and see live as STP.' It was something we all felt around the same time, and we thought about it seriously."
"Seriously" became a tour in 2008, a jaunt almost noted for Weiland's Revolver mates painting him as Mr. High 'N' Dry as it was for the return of one of the grunge era's highest-selling bands. To most of the world, STP and Weiland were interchangeable terms, and if he gummed up the works again it was just on to the next Weiland saga.
But people — being the worst — didn't figure on Kretz and the DeLeos being so committed to the cause. "We've still got it, never lost it," he avers. "Sometimes it's really therapeutic to take time away from each other. Since 1992, we'd been seeing each other on a daily basis . . . nightly basis, morning basis. When a band's on tour, you're just with each other. Everywhere. Shaving. Showering. Performing. Arguing. Business decisions, artistic decisions. It's a very close relationship. After several years, it's therapeutic to step away, gather your senses, and say, 'I really miss that pace of running in that pack and how wonderful the music side of it is.'"
Cumbersome as that mantra sounds, it can't be stripped of its sincerity. Stone Temple Pilots return with a self-titled record later this month that, upon first, second, and third listens, never betrays a band who're in step with their decades-old strengths. Supporters and detractors will be likewise emboldened as its unremitting, power-pop core uncovers paths to Beatlesque pomp and Zepplinesque stomp. The chameleonic Weiland adapts himself to surroundings to emerge as an unsleepy John Lennon one track ("Dare If You Dare"), and a winking Mark E. Smith the next ("Hickory Dichotomy"). At turns a wily summer album to justify the imminent barn tour and a defensive collection to reinforce the legacy, Stone Temple Pilots importantly refines an identity that used to be seemingly purposefully unestablished.
"It's kind of weird," Kretz admits. "Our reunion was in 2008 and we toured for a year and a half. We did quite a bit of festivals and headlining gigs. At the end of 2008, we decided to make a record because things were going great and we were getting along so well. So from March 2009, we'd tour and come back, balance family, and then the record was finished in December. It's hard to say, 'This is the reunion.' This is the recordings. It's a new statement of where we are right now."
That's a tricky statement to make, though the band have never really existed in a specific place and time. Formerly mocked as grunge hangers-on, it'd be arrogant to insist Dean DeLeo's chorused jangle, the interlocking bounce of Robert and Kretz, and Weiland's duty to the song haven't become a singular sound. If there can be any complaint about the new album, it's that those touchstones are visited quite frequently at the expense of the delightful weirdness from previous episodes.
"We had the luxury of not having to play it safe," he says. "That sophomore slump — that's the curse. Playing it safe . . . you can't really play it safe because it never works. I'm trying to think of a band that's tried to do that, but you don't remember them because you don't remember those records. If you try to formulate it and play it safe and think 'this is what's popular right now' it usually doesn't work, because people listen to it, 'Oh, it sounds exactly like the last one.'"
— Steve Forstneger
For the full interview, grab a copy of Illinois Entertainer, available free throughout Chicagoland.