Metro, Chicago
Thursday, March 25, 2010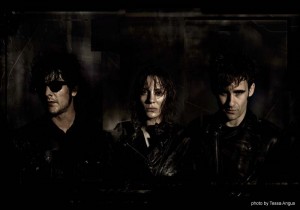 Disregarding their vampiric, L.A.'s Jesus & Mary Chain looks, Black Rebel Motorcycle Club have worn a surprising number of hats in their underrated career.
Part of that might be because they're not from Los Angeles, but the Bay Area. But since debuting in '01 they've been careful not to hammer out an identity by treading ruts in the same stretch of road. Howl was easily their most striking and unexpected album, combining Southern-gothic rusticity, alt-rock angst, and 3 a.m., back-alley loneliness that never quite made their leather jackets extraneous.
Where BRMC have struggled is in making straightforward records — of which they've made two: The first buried the momentum built by their debut and the second, 2007's Baby 81 sank Howl's promise. This spring's Beat The Devil's Tattoo doesn't try to break their succession of breakthrough/dud/breakthrough/dud, but seems to be an attempt to correct Baby 81's ills. For the most part it's successful, having not only focus but some of the goods to back it up. "Bad Blood" and the acoustic "Sweet Feeling" rank among the band's best work, though there's still cause for worry, as an ape of Coldplay's "Politik" (easy to spot) affirms.
Opener Band Of Skulls risked repelling people with a White Stripes homage opening last year's Baby Darling Doll Face Honey (Shangri-La); listeners smart enough to stick around were treated to an amalgam of co-ed garage rock styles. The album's willingness to vie for radioplay is actually what gives it personality, though the Anglo-folk "Honest" might be too far off the path. "Death By Diamonds & Pearls," "Fires," and the well-schooled "Patterns" point to roads better taken.
— Steve Forstneger
Category: Stage Buzz, Weekly