Bottom Lounge, Chicago
Friday, March 19, 2010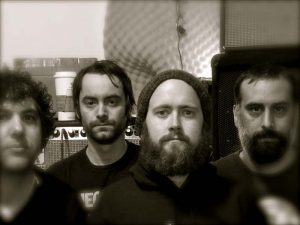 While sure to upset a lot of bands (if not only because it calls them "emo"), "emo's just a phase" is both true for a lot of youngsters as well as being to blame for some missed career transformations.
When The Appleseed Cast first dropped The End Of The Ring Wars in 1998, it arrived at the end of an era sprung by Sunny Day Real Estate, which included Jimmy Eat World and Mineral. The very same year, a reunited SDRE released the prog-ambitious How It Feels To Be Something On, and sad boys everywhere were forced to move on.
Including The Appleseed Cast. Friday's show will concentrate on the two-volume Low Level Owl albums, which caught the band in mid metamorphosis. Instead of harassing, Fugazi-esque guitars, things tend to drone and drums and atmosphere take hold. Vocalist Christopher Crisci still offered the odd notebook scribbling du jour, but even he seemed more concerned with drifting in and out sonically than actually winning back the girl. Where SDRE's script traced Radiohead and even Yes, AC tracked through disc after disc of shoegaze, quoting My Bloody Valentine here, and drawing bloody kisses there. Both volumes will be played in their entirety.
Dreamend open.
— Steve Forstneger
Category: Stage Buzz, Weekly