Mainlining Chicago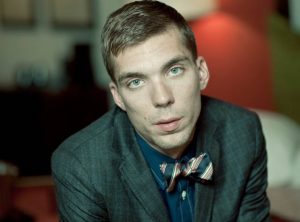 Coming off a meteoric two years – starting with 2008's stellar, honky-tonkin' debut, The Good Life (Bloodshot), followed quickly in 2009 by the much more urban-indie Midnight At The Movies and earning both a new/emerging artist Americana Music Award and GQ fashion spread in the process – Justin Townes Earle is at home in a favorite New York City bar while on a month-long holiday break prior to resuming touring in January.

Appearing: Saturday, February 27th at Lincoln Hall in Chicago.
But it's not all R&R for Earle. In addition to a post-New Year's invitation to take a highly coveted solo turn in front of a veritable musician's "who's who" at Levon Helm's barn upstate – which he admits made him more than a little nervous when tapped to take the lead verse on "The Weight" – he's also been playing unannounced gigs at small venues around town, working out new musicians and set lists for the upcoming tour, as well as testing the audience waters with material for his next CD, which, true to form as one who's described his music as "Southern American," Earle says will lean more on a real gospel-ish sound. Not necessarily songs about Jesus, mind you (although Earle knows all about repentance and redemption), as much as "lots of handclapping and background singers and horns and piano and all that good stuff."
While Earle is used to being in the public eye – he is, after all, the son of Steve Earle and even toured with him as a utility player and guitar tech – the person in the stagelight today is far removed from the uncontrolled, highly addictive personality he traces back to as early as 11-years old (a trait that even led his own father to fire him when he was 20). Openly candid about his past problems with both needles and bottles ("I was quite fond of both" he notes), he credits his decision to get "serious" about being a musician that eventually helped him kick his demons – though hardly overnight.
"[It was] when I quit school, when I was around 15," he says. "And that was just kind of, it was really the only legal option that I had at the time, you know, that wasn't going to get me in a whole lot of trouble. Well it did get me in a whole lot of trouble, but not in a whole lot of trouble fast," he adds with a laugh. "And it probably could have killed me, but not as fast as the way I was going before," he says with more laughter.
"But yeah, I just decided that it was what I was going to do. And after many years of tripping over my own feet with the partying and the whole thing – I thought music was just one big party – I kind of settled in and started realizing that it's more than that. It is art. And it's work. And, you know, artists have to work, too. It's not just one of those things that's beamed down from outer space. When you get out of practice and you stop reading books, [when] we stop taking anything in and then we stop putting anything out. I think that it's very important to make sure we keep ourselves up as artists. And it took me a long time to realize that I needed to protect me and protect the artist," he concludes.
Indicative of when music was still just one big party was the time Earle spent living in Chicago – starting a few years after he quit school, which he recounts with his usual candor and wit.
— David C. Eldredge
For the full story of Earle's Chicago escapades, grab the February issue of Illinois Entertainer, available free throughout Chicagoland.