Fallen: Can't Get Up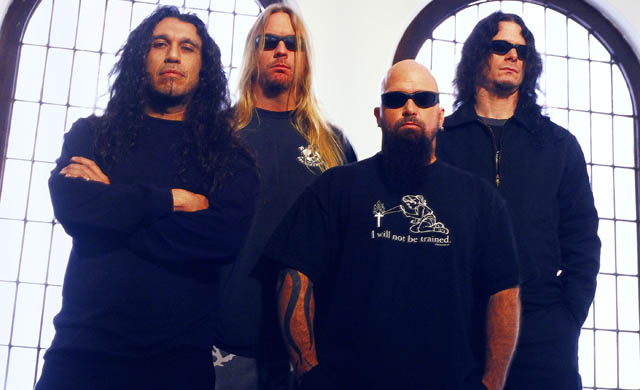 It's hard to pinpoint exactly when old age becomes a source of amusement, but the thrash-metal community caught quite a jolt when the frontman of its charter member, Slayer, had to cancel a megatour because of back problems. (If only it had been a hip.) If it had been one of Dave Mustaine's lackeys they'd have simply moved on; if the lineup were different and Ozzy Osbourne fell off his Bowflex we'd all laugh. But Tom Araya – thee Tom Araya?
It's for the best. Let's not kid. Araya's 48. The original Clash Of The Titans Tour – a sequel to which his injury has foiled – ran in 1990. Twenty years later that lineup was gonna do what? Play hits sets in hour-long compartments? Satan would be so . . . embarrassed. So February 5th, when this jaunt was set to hit UIC Pavilion, you'll be where? At the doctor, hopefully. Getting that trick knee scoped. It has since been rescheduled for August 20th.
Like Dylan In The Movies
You go through life and you end up with rhymes. For us, there was an 8th grader called Sim (rhymed with Tim; short for Simon), dorks you pounded on who played virtual games called Sims, then there's a Central-Illinois-based metal fest called CIM, and now we have the Chicago International Movies & Music festival: CIMM. And it's kickin' our ass.
Though only in its second incarnation (March 4th to 7th), CIMM has synergy in its blood. On opening night, the film Universalove is co-directed by something called Naked Lunch while a documentary, William S. Burroughs: A Man Within, plays across town. Ah, dovetailing. This year's fest (catch more info at cimmfest.org) also features a film about and supported live by Robyn Hitchcock, something about Kiss' Paul Stanley, and more by Jon Langford (a pic about Mekons), DJ Spooky, and ex-Hüsker Dü man Grant Hart.
Music With Teeth
My dentist, with dollar signs in her eyes, swears to me I grew up where there was no flouride. That's why I'll be strapping a beat-up guitar on my back and heading to the Chicago Federation Of Musicians (656 W. Randolph) on March 4th for a free consultation! Actually, you need to contact Music Cares in advance for an appointment, so you can get in line for a free exam with basic cleaning, polishing, and two x-rays provided by Mobile Dentists. We ask all boxcar banjoists to assess the threat to their career before applying.
House Of Wax
At this point, Wax Trax Records has been closed for nearly as long as it was open in Chicago ('78 to '95), but its incalcuable impact was in its galvanizing properties for Chicago punks and others as well as becoming the international nexus for industrial rock. In early January, co-founder Dannie Flesher followed Jim Nash into the next life, dying at home in Hope, Arkansas aged 58.
Flesher and Nash originally opened the store in Denver, but moved to 2449 N. Lincoln three years later – eventually spawning a record label that would issue KFMDM, Underworld, My Life With The Thrill Kill Kult, and countless Al Jourgensen side-projects. The imprint was eventually sold to TVT in '92 following money problems, and Flesher dropped out of music when Nash succumbed to AIDS complications in '95, but the business aspect of it always seemed superfluous to the store. It was the institution, the engine that got nearly everything going with Flesher quietly pulling strings.
— Steve Forstneger