This Addiction
(Heart & Skull/Epitaph)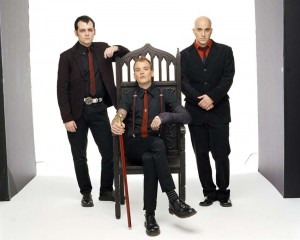 For all the grumbling that Alkaline Trio have strayed from the rawer sound present on the act's initial outings, the three-man punk outfit don't seem to have any trouble getting bodies out to see them.
Appearing: February 27 and 28 at Metro in Chicago.
The group hit Metro this weekend for two sold-out shows in support of their latest effort, the just-released This Addiction. The record is somewhat of a return to form for the Trio, underplaying the over-polished power-pop sensibilities present on the group's last few efforts (2008's Agony & Irony and 2005's Crimson). Instead, This Addiction plays it comparably straight, with short bursts of rough and repeating riffs propelling "Off The Map" and "Lead Poisoning," while the group expand the formula on the synth-backed "Eating Me Alive." Of course, die-hards are no doubt eagerly anticipating selections from the group's early catalog.
— Jaime de'Medici