The Original Scepter Records Years (1966-73)
(Collectors' Choice)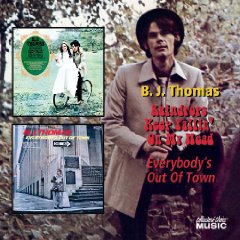 B.J. Thomas was a country-flavored pop crooner in the era of the singer/songwriter. Still, Thomas' '60s classic hits, including the infectious "Hooked On A Feeling" and his seminal smash, "Raindrops Keep Fallin' On My Head," made him a star.
Because many of his biggest hits boasted overtly pop arrangements, through the years, Thomas' catalog is more associated with the cheesy pop of Burt Bacharach (who co-wrote "Raindrops"). Make no mistake, B.J. Thomas was a mainstream pop singer searching for hits, unlike the singer/songwriters of the era like Paul Simon and James Taylor, whose more personal songs explored and revealed -– and also topped the charts. However, looking back and more importantly, listening to Thomas' legacy, a more serious, stylized artist emerges. 
From 1966-73, Thomas released eight albums on Scepter Records — I'm So Lonesome I Could Cry, Tomorrow Never Comes, Raindrops Keep Fallin' On My Head, Everybody's Out Of Town, On My Way, Young And In Love, and Most Of All, and Billy Joe Thomas — and worked with some of the best producers (including Memphis' Chips Moman, who produced Elvis Presley's 1969 acclaimed From Elvis In Memphis, which included "Suspiscious Minds" and "In The Ghetto") and songwriters (the likes of Bacharach and Hal David, Barry Mann and Cynthia Weils) of the day. 
Now all these are reissued on four CDs (each offering two full albums and bonus tracks) – and the results yield a mix of major hits (also "I Just Can't Help Believing" and No Love At All") and impressive cover versions all with the trademark B.J. Thomas imprint. Thomas was a singles artist, so offered here are various interpretations of contemporary songs and various genres aimed at the charts, rather than cohesive-themed albums designed for listening and absorbing. 
The best of these as a full listening experience, not surprisingly, are Moman's and Bacharach's work. Each producer played to Thomas' singing strength – a smooth country vibe with a husky pop buoyancy. In fact, Thomas' signature sound is similar to the pop/gospel/country fusion that Presley favored toward the end of his career. The Raindrops Keep Fallin' On My Head/Everybody's Out Of Town CD includes a veritable vintage snapshot of the late '60s, including Thomas' hummable title song by Bacharach and David, and several deserving, engaging covers of "Little Green Apples," "Suspicious Minds," "This Guy's In Love With You," "Everybody's Talkin'," "Bridge Over Troubled Water," and "Always On My Mind."
Throughout all eight releases, Thomas' charismatic voice and laid-back phrasings are pleasingly featured on other defining originals and many impressive covers like ""I'm So Lonesome I Could Cry," "Solitary Man," "Hurting Each Other," "Close To You," and "Rainy Night In Georgia." For  B.J. Thomas fans, these reissues probably are their holy grail. And it's not too hard to hear why. The guy had the pop chops, and the people writing and arranging his songs knew how to craft and record a pop song.
B.J. Thomas made a cozy career singing "somebody done somebody wrong" songs, and 40 years later, his style endures.
— James Turano
Category: Monthly