Vic Theatre, Chicago
Wednesday, July 29, 2009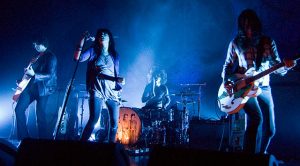 The reality of Jack White's celebrity was a given way before his latest project, The Dead Weather, sold out two nights at the Vic Theatre. His blues-based classic rock milieu will always find fans in America, but his prodigious ability to shake its junky old parts up and consistently sound like himself deserves admiration. It's certainly not his ghostly skin that turns people out.
While his other non-White Stripes project, The Raconteurs, shifts toward the affable (if blah), song-based presence of Brendan Benson, Dead Weather flips sides to his visceral inclinations, heralded by the hiring of The Kills' mercurial frontwoman, Alison Mosshart. White, still the tacit focus, occasionally beckoned the call to guitar and mic, but happily consigned his body to the drum kit, much to the chagrin of fans toward the backs of the Vic's bevelled terraces. There White could be heard and not seen, and the illusion of this being a collaborative effort intact.
The night needed a subtext like collaboration to distract not only from his celebrity, but this outfit's underwhelming debut. Horehound (Third Man) bears the hallmarks of White's unmistakable sound: conjuring puke-punk attitude from otherwise shopworn riffs. White and Mosshart wail and spit and doors dangle from their hinges, but the overall hollowness in composition underscores its side-project status. The night's objective should have been to make these dead spots come alive.
But all that happened was an upturn in volume. As they do on the album, show-opener "I Cut Like A Buffalo," the PJ Harvey-esque "60 Feet Tall" (with Mosshart rather cheesily atop the stage monitors), and Bob Dylan's "New Pony" percolated, booming with the sass from stylistic forbearers like Boss Hog and Royal Trux. But as the band toured through a bucketful of deep cuts they seemed to be caught in mid-rehearsal. White proved himself to be an outstanding keeper, but Mosshart suppressed her Kills violence, while guitarist/jobber Dean Fertita and bassist Jack Lawrence did little to distinguish themselves. Fans on the terraces who were tip-toeing to steal a glimpse had rocked back onto their heels a mere half-hour into the 60-minute set, unprovoked by the one-dimensional confrontation facing them.
At least they caught a glimpse of Jack White.
— Steve Forstneger
Category: Live Reviews, Weekly