Ravinia, Highland Park
Thursday, July 30, 2009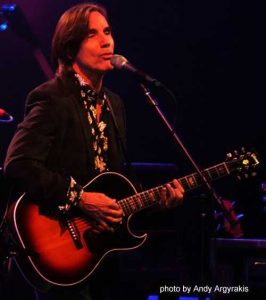 With six years between studio CDs and just as long since last playing a proper Chicagoland concert, Jackson Browne had no trouble selling out Ravinia, marking his fifth appearance at the venue since 1977. "It's always a pleasure to be in Chicago and Ravinia's very special to me," he echoed just moments into the two-act, 135-minute return trip, split between a handful of hits, socially and politically charged album cuts, and tunes off 2008's Time The Conqueror.
The first half opened with the ever so appropriate "I'm Alive," signaling the 60-year-old's spirited return, accompanied by a four-piece band and two background vocalists. Together, the collective cranked out a series of country/folk-infused jams and plenty of straight-up pop-rockers, ranging from the low-key "The Barricades Of Heaven" to the keyboard-centered charmer "I'll Do Anything."
Browne's fairly generous sampling of the new record began with the title track, a retro/adult contemporary rocker that was drowsy compared to the "1960s enlightenment" anthem "Off To Wonderland." But as other average reflections like "Going Down To Cuba" and "Just Say Yeah" popped up later on, it was clear the current album is likeable enough, but by no means groundbreaking.   
The troubadour was much better suited recalling the classic "Take It Easy," which he co-wrote with Eagles' Glenn Frey to become that band's initial breakthrough single. Prior to the presentation Browne quipped, "I haven't played this for many years but I'm starting to warm up to it," and based on audience reaction, he should've dusted it off ages ago.
Though the second half started slow via a subdued "Jamaica Say You Will," "Doctor My Eyes" lit the park with an additional dose of familiarity. Surprisingly though, the monster hit was relegated to a mere two-minute snippet merged with "About My Imagination," which could've stood alone as a soulful pop session thanks to solo spotlights from the female backers.
One of Browne's most overlooked tracks, "Lives In The Balance" also came out of the woodwork, which was perhaps dismissed by earning airtime on "Miami Vice," but has since been given a complete overhaul. Instead of restoring its dated '80s production, the performer stripped the track to its jazzy core and added new lyrics (echoed once again from the supporting singers) about societal decay and political unrest.
For die-hards, the singer/songwriter also recalled "another song I haven't sung for quite a few years" — "For A Dancer" — featuring Browne back at the piano for it and "The Pretender." But he soon strapped on a guitar to appease the more casual faction of his fan base for a riveting "Running On Empty," suggesting that even with four decades behind him, Browne isn't running out of gas just yet.
— Andy Argyrakis
Category: Live Reviews, Weekly