Chicago Theatre, Chicago
Monday, August 3, 2009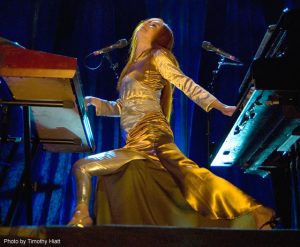 Over the last two decades, Tori Amos has become one of the most prolific recording artists to emerge from the alternative era. With 10 studio albums in addition to a box set brimming with b-sides, the piano siren's sheer output is a bit overwhelming. Especially when her 2002 album Scarlet's Walk, 2005's The Beekeeper, and this year's Abnormally Attracted To Sin have all clocked in at at least 17 tracks each. That's not even counting 2007's American Doll Posse, a staggering 23-song production. In fact, in describing the copper-haired chanteuse, "prolific" almost seems too soft a word. 
For a full-blown Tori Amos picture gallery, visit www.illinoisentertainerphoto.com!
The end result of such, ahem, ambition, is an overload of uneveness. There's no denying the impact of Amos' previous efforts; Little Earthquakes, Under The Pink, Boys For Pele, and From The Choirgirl Hotel still stand as notable, if not groundbreaking, '90s records. Unfortunately, setting the bar so high early on, the sprawl of Amos' modern output become that much harder to justify, coming across as unrestrained excess more than anything else.
All of which has bled over into Amos' live show. As a performer, the singer/pianist is still in a class by herself. Theatrical, otherworldly, strangely hyper-sexual, and continually disarmingly intimate, the she crafts a performance that is undeniably her own. Alas, even the most unique performance is only as engaging as its material.   
Clad in a gold-and-silver costume complete with cape, Amos hit the Chicago Theatre Monday night looking like one of the Avengers by way of American Apparel. The performance found her in town behind Sin, an album drenched in spacy echo and reverb that comes across as a companion piece to 1999's To Venus And Back , with the mature AC of Scarlet and some Choirgirl aesthetic thrown in for good measure. It's a combination that covers territory familiar to the singer's earlier material, but lacks the connection made through those previous albums. Live, Sin didn't fare much better. Even those that presented an interesting idea, such as "Lady In Blue," which channels a the spirit of a mournful cabaret piano bar, overstayed their welcome. Similarly, the muddy "Police Me" ultimately proved aimless and teetering.
Fortunately, and not surprisingly, Amos' earlier material continued to stand the test of time, with the Chicago Theatre proving the perfect venue. With its superior acoustics, the room quickly established itself as the third most important instrument throughout the evening. Amos has mastered utilizing her voice in countless ways to various effects, from breathy and overstated throughout "Cornflake Girl" to dramatic and exasperated during "Bouncing Off Clouds," where Amos belted out "We could be bay-OUNcing off the top of these clow-eee-ouds!" But nowhere did the room and the singer's voice stand out more than "Leather," wherein Amos barely let out a hushed whisper of the track's chorus. It was a slow, deliberate, and sparse technique, yet one that resonated throughout the theater to impressive effect. Later, during the rambunctious and engaging show-closer "Big Wheel," Amos took her set to the opposite extreme, belting out a declaration of "I am an M-I-L-F," which the crowd quickly followed up with "Don't you forget!" Elsewhere, the singer toned town the theatrics for "Josephine," a more majestic and less showy piano piece. Likewise, "Pandora's Aquarium" proved a showing of Amos' restraint, resulting in a more jazzy, shuffled production, while "Northern Lad" came across elegant and vulnerable.
— Jaime de'Medici
Category: Live Reviews, Weekly