Studiophile
August 2009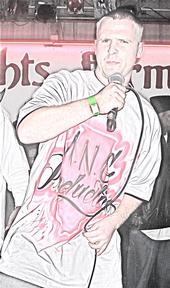 J-Miah
At COMFORTZONE RECORDS in Oswego, J-Miah and producer Jason Mackniskas recorded the last two tracks needed to finish his debut album . . . On The House from Indiana University At Bloomington threw a three-song demo down featuring Brice Fox (vocals/piano), Bryan Flinn (vocals/guitar), Conor O'Toole (lead guitar), Ben Shulman (bass), and Nick Tanner (percussion). The session was engineered by John and Jason Mackniskas and Nathan Briggs, with production by John Mackniskas and On The House.
Adam Krier and Jason Shultejann (Lucky Boys Confusion) and their fellow members of American Taxi flew to Austin, Texas to record producer Mike McCarthy's (Spoon) private recording studio for their Virgin Records debut.
Le Concorde, led by songwriter/multi-instrumentalist Stephen Becker, has been busy recording their new full-length album, tentatively titled House. Several weeks of sessions were undertaken in May with Grammy- nominated producer David Gamson (Scritti Politti, Kesha, Me'Shell Ndegeocello, Chaka Khan) at Mechanism in Los Angeles. The West Coast sessions were followed by June sessions at SLANG STUDIOS in Chicago with legendary producer/remixer Vince Lawrence and engeneer Brian Gaynor. Tracks were also completed in February and are currently underway with Chicago producer/ engineer Ed Tinley (Liz Phair, Ike Reilly Assassination) both at Tinley's studio, Boris Karlov, and mixing sessions at Jeff Frankl's SUNBURST SOUND.
Band Called Catch released their second album, entitled . . . This, during a June 20th show at the Cubby Bear in Wrigleyville. The album was recorded and mixed by Dan Stock at UPTOWN RECORDINGS on Chicago's North Side . . . Chicagoland rockers Deepsix worked on their demo CD at VELOCITY RECORDING in Aurora with local producer, writer, and musician Bobby Scumaci, who also performs locally with Hi Infidelity.
Besides the usual studio recording at LINDER AVENUE, Dom Palmisano has been busy producing and incorporating his own musical talent into the newly released Michael Riser CD. Palmisano produced, engineered, mixed, and lent his drumming skills on Rise – clips of which can be heard at www.michaelriser.com . . . Hard rockers Lower Wacker have also completed an EP with Palmisano producing and engineering the project. Guitarist extraordinaire/IE contributor Mike O'Cull has finished all the basic tracks at Linder Avenue for his upcoming solo release . . . Palmisano has also been credited as co-producer for the EP from alternative rock artisit 610, who tracked and mixed the entire release at Linder Avenue.
ENGINE STUDIOS has reconfigured both studios A and B to be bigger and more approachable for clients. Will Oldham (Palace, Bonnie "Prince" Billy) recorded and mixed, with the help of Neil Strauch, his new album, Beware, at Engine. Editor Steve Forstneger had this to say of Beware earlier this year: "After the warmth of last year's Lie Down In The Light, Will Oldham is positively resplendent on Beware. Despite the felt-tip scrawling "Seek the wolf in thyself" on a dollar bill in the liners, the contents within sparkle in a mixture of gospel and outlaw- country besottedness. The thaw has also reached Oldham's lyrics, which have taken on a Lou Barlow emo-ness. "You say my kissing rates a six on a scale of one to 10," he snarls on "You Don't Love Me," "and you wouldn't pass the time with me 'cept you're tired of all your friends." In other instances, the crossing of Oldham's world with that of Waylon Jennings' seems like a joke ("You Are Lost"), but the care with which he, Neil Strauch, and Jake Westermann unfurl the recordings reveals a reverance that never lets on so much as a wink. Beware, Oldham fans. Beware.
YO STUDIOPHILERS! E-mail whom or where you're recording to ed (at) illinoisentertainer.com by the 10th of each month. Submissions may be edited.
Category: Columns, Monthly, Studiophile