MARSHALL
MG2FX Portable Amplifier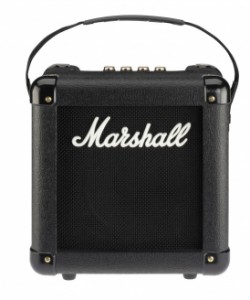 Marshall Amplification has added the portable MG2FX to its popular MG4 line of mini practice guitar amps. It offers a simple interface consisting of four dual-function knobs to provide access to 10 unique stage settings, five digital effects, a two-band EQ, and a tuner. As you expect, the MG2FX can run on battery power (six C cells) or an AC adapter. This mini combo offers 10 popular tones or flavors, including a shimmering clean tone, the famous Marshall "Crunch," and all the overdrive needed for the wanker-like guitar leads that most lead guitarists play when they get to the amp room of their local shop. The Treble and Bass knobs offer further tone tweaking, while Digital Reverb and Delay are built-in, including a Tap button for setting the delay time. In addition, a Chorus, Phasing or Flanging effect can provide extra psychedelic sparkle to the sound. The MG2FX includes an MP3/line input for jamming along to any audio source. The headphone output allows for private practice, and also serves as a line output for recording or for connection to a larger sound system. The 6.5-inch speaker is powered with two watts for a mini Marshall sound. The Marshall MG2FX will be available in October and will sell for around $200. Visit www.marshall.com for info.
ERNIE BALL
Slinky Coated Bass Strings
Ernie Ball's new Slinky Coated Bass String line comes in multiple gauges, and features a micro-thin layer of a super-secret enamel coating that prevents decay and corrosion up to five times longer than an uncoated set of strings. Acclaimed author known as the "Bass Whisperer," Ed Friedman had a chance to take a sneak peak at a few of the new coated bass sets at the summer NAMM show in Nashville and had this to say: "The coated string sounds virtually identical to the non-coated [string], it's not until I move back to the bridge and dig in, that you can hear the slightly warmer character. The string has the detailed mids and full bottom you want from nickel, and an upper midrange presence that will get you heard amidst thrashing guitars and crashing cymbals. If you already dig Ernie Ball Slinkys, you'll dig the coated version. If you prefer the sound of nickel strings after they've broken in, the Coated Bass will give you that sound straight out of the pack." Ernie Ball Coated Slinkys maintain the feel and sound of uncoated sets but give Joe Bassist plenty of added value by lasting nearly 200-percent longer, like a fancy synthetic motor oil. Visit www.ernieball.com for more details
ALFRED
Rush: DeLuxe Guitar TAB Collection
Rush fans rejoice! Alfred's two deluxe TAB collections cover almost the entire career of those crazy canucks. The Deluxe Guitar TAB Collection 1975-2007 and Deluxe Bass TAB Collection 1975-2007 cover more than 30 years in the career of one of the most dynamic and influential progressive-rock bands in history. Digging back into the band's catalog is a joyful reminder of Rush's brilliant guitarist Alex Lifeson, one of the fathers of the progressive rock guitar, and prog master bassist, Geddy Lee. Commencing in the mid-'70s and concluding with chart success Snakes & Arrows from 2007, these 22-song collections are fully transcribed in complete, authentic TAB. Titles include "Closer To The Heart," "Fly By Night," "Freewill," and "The Spirit Of Radio." Alfred is also offering play-along versions on performing software. Visit www.alfred.com for all the details.
— David Gedge