Master's No Puppet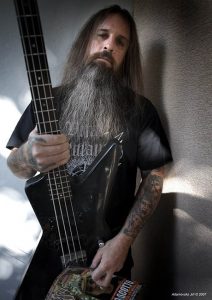 As if Master wasn't enough of a reason to like Paul Speckmann, the dude credits this humble little magazine with boosting his career! In early 1984 Speckmann had just left War Cry (which, along with fellow Chicago doomsters Trouble, was a major influence on the mighty Cathedral) and craved something faster, more aggressive, and more evil. After forming (and quickly abandoning) the first incarnation of Master, the Arlington Heights native was leafing through Illinois Entertainer when he came across an ad placed by guitarist Chris Mittlebrun, who referenced Venom, Slayer, and Motorhead as influences — Speckmann had his man. The duo formed Deathstrike, which eventually morphed into the first true Master lineup.
Needless to say, when a death-metal icon piles praise on little IE, we get giddy. "If it weren't for the Entertainer, I wouldn't still be alive and playing today," Speckmann says, seemingly irony free. "Let's face it, this is the first thing I look for when I am in Chicago to catch up on the latest news on the music scene, whether it's local or international."
Lucky for him, and us metal fans, Speckmann (who left Chicago for the Czech Republic in the early '90s to join the now-defunct Krabathor) will have two chances to grab this month's issue. Master headlines Nite Cap July 11th and the first night of Central Illinois Metalfest (Canopy Club in Urbana) on the 31st.
Mosh: First off, a congrats on the recent signing with Pulverised.
Paul Speckmann: Thanks very much. In these times it's very difficult to get a decent record deal. The last several records were released by a distributor in Germany called Twilight Vertrieb. They did a really decent job in Europe and tried their best, but they really dropped the ball outside of Germany. It's another situation of a label signing too many acts at once and not focusing on a handful of acts and helping them to get to the next level.
M: What's the timetable for the Pulverised debut?
PS: We will begin recording in November of this year. I am not rushing this album. Guitarist Alex Nejezchleba has written several songs, and I will check them out and pick and choose a few. I have personally begun writing about 10 songs at the moment. But, I will write and re-write them until I feel they are satisfactory for the new CD. The title will be The Human Machine. I would say to look for a release in early spring. Of course the label will make the ultimate decision on the release date, and we have yet to discuss this.
M: Last year Master toured the States for the first time in something like a decade. I read an older interview where you said something to the effect of "the American metal scene sucks." Were you surprised with the response to the tour?
PS: Again, times change, people change. Back in the day Master toured the U.S.A. and travelled in my Dodge Ram 150 van to play weekend shows and camped across America. People rarely came to the shows, yet they were supporting all the Master clones on a regular basis. I could never figure this out. I had to tour Europe to see an appreciation for the band. But, on this last tour, I was surprised to see people coming out in numbers. So the scene has definitely grown since I left, and I am damn happy about it.
M: Is coming back to Chicago special?
PS: Always, as I get a chance to see old friends and enemies, and there is no place like home. I came from Chicago and will never forget my roots. I remember the days trying to pick up chicks at The Thirsty Whale. When I come to Chicago I think about places like the Aragon Ballroom and all the killer shows I saw growing up. Chicago is Chicago. This is a special place on this planet.
M: What was it like coming up in the early-to-mid-'80s Chicago metal scene?
PS: This was the bomb. I remember auditioning some semi-famous drummer back in the day at his practice room at some old factory and getting to see Blackfoot supporting Def Leppard in seats set up in front of the first row at the Aragon because he worked security there. The guy sucked, and we only tried twice to rehearse with the fool. Anyway, there was a real friendship between the bands during this period. It wasn't unusual to see the guys from Trouble or Zoetrope in the audience at the shows we played at the Whale and other places around the city. I went to see these bands over and over again in the day. I still laugh when I think about that legend [Zoetrope/Trouble drummer] Barry Stern, the first time meeting him in line at a Motorhead concert. He had the biggest afro I had ever seen with a small cowboy hat on top of it. I was saddened to read of his passing. Like I said, those were killer times, and many great bands came from Chicago and some went on to have killer success, notably Trouble. I remember auditioning for the band back in the day and I had a killer time, but I still was interested in Master so I stayed. I never went back for a second audition after I was called back. I thought Master would be the biggest thing on the planet.
M: Master has a peculiar standing in that it didn't become the household name some of its peers did, yet most of those peers are quick to acknowledge Master. At the end of the day, are you happy with what the band accomplished?
PS: Yes, of course. At least I can go to bed knowing where the music came from, unlike many of my contemporaries. Master has achieved success, I suppose, in the underground and may always remain there. The one thing that sets the band apart from others is that we have always stayed true to ourselves, never jumping on trends like so many others have. I laughed when a band from Chicago called Dissinter called me the "Same Riff Speckmann." If you listen to any Motorhead record you will hear similar riffs over and over again. This is called style, my friends. At least when you put on a Master CD, you know it's Master after a few seconds, this is more than I can say for most of the metal going on in today's world. Everything has become stagnant and generic. It's certainly hard to find anything new, so I always stick to the roots of Master. This can never fail.
Right click here to download Master's "Slaves Of Society."
WITCH WATCH: Skeletonwitch announced last month its new record will be produced by none other than Jack Endino, who, you may remember, ruled ass on High On Fire's Death Is This Communion (Nirvana shmirvana). Recording started June 14th in Seattle, and on its way the Witch performed a string of one-offs, including a ridiculously awesome set at Empty Bottle June 4th. The group played three new songs ("Crushed Beyond Dust," "Blinding Black Rage," and "When The Light Has Failed"), and fans need not worry about a "sophomore slump." Guitarist Scott Hedrick told "Mosh" the album should come out October 13th. If it doesn't, he said, it's not the band's fault.
MOTLEY SNOOZE: I don't care what anyone thinks of me for saying it: I heart Motley Crue. That said, though, I'll be the first to criticize the group's penchant for sketchy reissues. Remember the Music To Crash Your Car To retrospectives? Nikki, Tommy, Vince, and Mick have raped, pillaged, and plundered their catalog for a dollar, but even they should be ashamed of Dr. Feelgood 20th Anniversary Expanded Edition (Eleven Seven/Motley). While technically true, "expanded" is misleading, as it only amounts to expanded artwork (liner notes by Rolling Stone's David Wild and some never-before-seen photos) and five extra songs, all previously released on the 1999 double-disc Live: Entertainment Or Death. Nobody gave a shit about Entertainment then (it's horrible), nor do they now. Save the $15 this travesty costs and put it toward seeing Motley Crue perform Dr. Feelgood in its entirety July 22nd at First Midwest Bank Amphitheatre in Tinley Park. Lawn seats are $29.95 . . . a pretty cheap ticket. It should be cheap, though, to stomach Godsmack, Drowning Pool, Theory Of A Deadman, and Charm City Devils just to get to the Crue.
— Trevor Fisher
Category: Caught In A Mosh, Columns, Monthly